MultiPad Consul 7008 4G
YOUR ULTIMATE BUSINESS PARTNER
Unleash the possibilities with an exceptional performance, blazing fast speeds, 4G connectivity and unique design.
Buy in the Official Store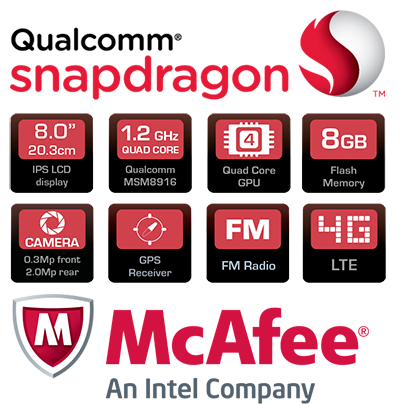 A new MultiPad Consul 7008 4G is a statement of power and style, made to serve you best in the business field. Featuring Qualcomm® Snapdragon™ 410 processor and a bright 8.0-inch high resolution IPS display, the tablet delivers exceptional performance and a great viewing experience, while the 4G connectivity provides you with up to 10 times faster speed, so your work becomes a pleasure.
During business trips, the MultiPad Consul 7008 4G can guide you around with a built-in GPS receiver. It also has a front video camera for video calls and a 2.0MP rear camera for taking photos. All multimedia files can easily fit on the 8GB of storage built-in.
Running an intelligent Android OS, it already comes preinstalled with many useful apps and more than 1,000,000 apps to choose from.
Protect yourself, your data, your identity and your tablet with McAfee® LiveSafe™.
The MultiPad Consul 7008 4G comes in a luxury design with a unique detailing and a stylish leather pouch included.