MultiPad Muze 5011 3G
WIDESCREEN ENTERTAINMENT
Listen, watch and play on a 10.1-inch tablet with fast performance and a variety of connectivity options.

Buy in the Official Store
Buy in the Official Store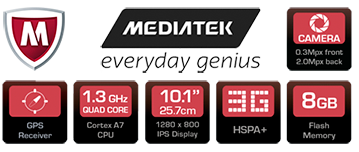 Listen, watch and play on a new Prestigio Muze 5011 3G, a 10.1-inch tablet which is perfect for entertainment and work. Enjoy a remarkably crisp and bright view on an IPS display with a resolution of 1280x800 pixels and fast performance thanks to a quad core processor. Have all your media files with you with 8GB of storage built-in. A variety of connectivity options allows you to stay connected to everything you like: internet anywhere any time with fast 3G connectivity, easy data exchange between devices via Bluetooth and video calls support.

When you are on the road, the MultiPad will guide you in the right direction with its built-in GPS receiver while having your favourite FM radio station on. Take pictures of your special moments with a 2.0MP rear camera and share them with friends on social networks.

A powerful battery of 7000mAh provides you with long working hours on one charge.Running an intelligent Android 4.4 KitKat OS, it already comes preinstalled with many useful apps as well as more than 1,000,000 apps to choose from on Google Play. All features are presented in an aluminum body with a modern design.

Protect yourself, your data, your identity and your tablet with McAfee® LiveSafe™. Get exclusive 30-days trial & save €65 on full version.