MultiPad Wize 3038 3G
YOUR ADVENTURE STARTS HERE
Designed for people pursuing a dynamic lifestyle to stay connected on-the-go.

Buy in the Official Store
Buy in the Official Store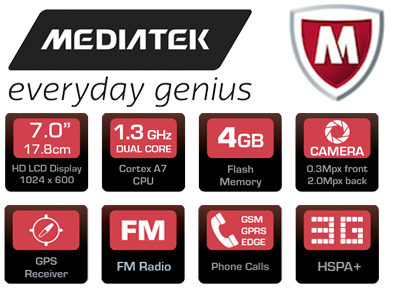 Start your trip with the new Prestigio MultiPad Wize 3038 3G, a 7-inch tablet PC designed for active people. Take it with you wherever you go, thanks to a highly portable format and reliable performance of the dual core processor. Pack all your media files with no shortage of space, its expandable memory allows you to entertain yourself during your journey.
Despite the distance, you can still stay connected to everything you like on-the-go with a fast 3G internet. Use Bluetooth for fast data exchange between devices, make phone calls and send messages, as well as video calls via the webcam. When you are on the road, this MultiPad will guide you in the right direction with its built-in GPS receiver while having your favourite FM radio station on.
Take pictures of your adventures with 2.0MP rear camera and share them with friends on social networks.Running an intelligent Android 4.4 KitKat OS, it comes preinstalled with many useful apps as well as more than 1,000,000 apps to choose from on Google Play.

Protect yourself, your data, your identity and your tablet with McAfee® LiveSafe™. Get exclusive 30-days trial & save €65 on full version.