MultiPad 4 Diamond 10.1 3G
AS PERFECT AS A DIAMOND
Bright display, fast performance and intelligent software in a luxury design - everything that makes it shine like a diamond.

Buy in the Official Store
Buy in the Official Store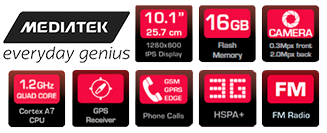 An aluminium body composed in a sharp and edgy design for a luxury and modern look - the new Prestigio MultiPad 4 Diamond 10.1 3G. As perfect as a diamond inside and out, it features a bright 10.1-inch IPS display, a fast and efficient Quad Core ARM Cortex A7 at 1.2GHz processor powered by MediaTek and intelligent Android OS with many apps already preinstalled creating the ultimate multimedia experience.
A travel assistant on the road, the Prestigio MultiPad 4 Diamond 10.1 3G offers a wide range of connectivity options. Enjoy fast internet with 3G (HSPA+), check your route with the built-in GPS receiver, listen to your favourite FM radio station and connect wirelessly with other devices via Bluetooth, make phone calls, video calls and send messages. A built-in 2.0MP rear camera allows you to take photos and makes your trip unforgettable, while an efficient battery of 6400mAh with USB charging extends your mobility.
To store all of your collection it offers 16GB of internal storage and the possibility to expand it with an additional 32GB via memory card. Also, 5GB of cloud storage is available with the preinstalled SygarSync application to access data from anywhere any time. Additionally, you can connect external devices such as a USB memory stick via the OTG cable. Featuring a miniHDMI output, you can enjoy movies from the MultiPad on your TV.
The Prestigio MultiPad 4 Diamond 10.1 3G is available in two colour options – black and white. Exclusively you also get a stylish leather pouch of the same colour with red stitching with your MultiPad - a beautiful accessory to complement your gadget.