Prestigio is showcasing at MWC 2014
02/11/2014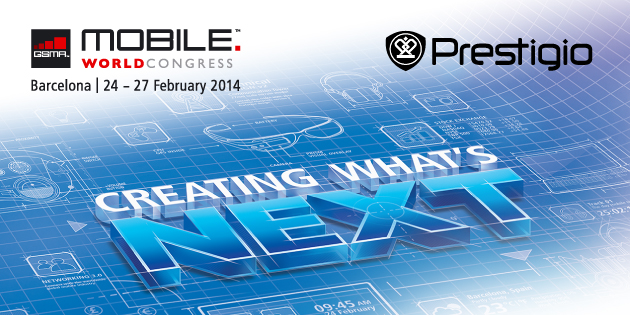 Prestigio, an international manufacturer of mobile devices, consumer electronics and accessories, is pleased to announce its participation at Mobile World Congress 2014 in Barcelona. Held between February 24-27, 2014 this event will feature the latest innovations in mobile technologies.
After last year's success with a record attendance of 72.000 people and the highest quantity of exhibitors - 1700, the MWC organisers expect these numbers to increase in 2014. "Year over year, the GSMA Mobile World Congress attracts the largest number and best attendees of any event in the mobile industry. And true to our name, this is definitely a global event".
MWC is regarded as the most relevant event for the mobile industry with an incredibly high and consistent attendance rate: 89% of 2013 attendees plan to return in 2014. Most of them recognise the Congress as the best place to keep up to date with industry developments. It provides the best opportunities to witness new product launches as well as meet partners and identify new suppliers.
The core of MWC is always a cutting-edge product and technology exhibition, the world's best site for seeking industry opportunities, making deals and networking. MWC 2014 will see the first Prestigio appearance at the venue. The company plans to showcase its best products, introduce new solutions to the audience and announce future corporate plans.
"It is true that whatever is coming NEXT will likely to be born or shown at Mobile World Congress 2014. Prestigio products are enhanced by "The Art of Hi-Tech" slogan and we firmly believe that every new step must be better than the previous one. Thus, we do our best to guarantee this with the highest quality of our products. Participation in MWC 2014 is a fundamental part of this job", - stated Yuri Antoshkin, General Manager, Prestigio EMEA.
Prestigio will host Stand 7C30 located in Hall 7. The company intends to fully utilise this exhibition and have a lively face-to-face communication with its customers and partners. It's a great opportunity to introduce the company's vision and its new products. Besides, it is a good chance for visitors to personally test the following devices that will be showcased at the Prestigio stand:
-Prestigio MultiPads and Windows Tablets: oriented towards active users looking for an all-in-one device for work, education, business and entertainment on the go.
-Prestigio MultiPhones: impressive smartphones with exquisite designs and outstanding performance.
-Prestigio MultiReaders: slim and compact eReaders with great quality and comfort of reading.
-Prestigio MultiBoards: Interactive White Boards with Multi-Touch Screen technology, an integrated Intel based PC based on Win 7 or 8 OS and a variety of applications – the way of getting the best from work, education and leisure.
Also, the Prestigio stand will feature a number of useful NFC accessories and introduce Prestigio Health Care Solutions. This new product line provides a brand new way of taking care of your health making health control easy, clear and interesting. Now users may receive, store and analyse their own data in a simple way and share results on social media or with friends and family.
So, without further ado, you are welcome to join Prestigio at MWC 2014 – see you in Barcelona on Feb 24-27, 2014!