Facebook Summer Photo Contest Winners announced!
10/04/2011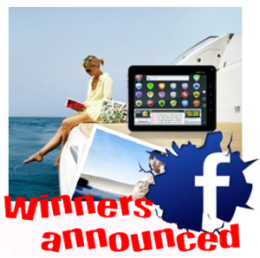 Prestigio announced today the winners of Facebook Summer Photo Contest "Share your most luxurious summer moment".

The winning photo belongs to Marina Marina from Russia, who has won the Contest's Grand Prize, Prestigio MultiPad PMP5080B. Annastella Lazarou, Dragan Lovrenčić, Gergana Kurukyuvlieva and Joshua Hawker took consequently second, third, forth and fifth places, having won great high technology and consumer electronics prizes by Prestigio.

"The response during the contest was terrific, and it was amazing to see what a wide variety of photos emerged from the required theme. We truly enjoyed receiving the entries and want to thank everyone for participation! It was not easy to choose 5 winning photos, since all of our participants did submit such incredible content! However, the winners have deserved their victory and we are so happy to reward them with amazing prizes! ", says Prestigio Marketing Team.

Contest's winning photos captured the uniqueness and the magic of the moment, representing the luxury of being among friends, family and nature. Luxury is seeing beauty in the simplest things, that's the most important criteria the jury considered while choosing the winning images.

"Share your most luxurious summer moment" took place from late August to October 2nd with online voting taking place during last two weeks of the contest. Fans of Prestigio's Facebook Fan Page were able to vote their favorite photos through "likes" into the final round.

Winning photos and more information on the contest can be found at Prestigio Facebook Page.