New GeoVision 7series GV4700 and GV5700 with iGo Primo!
12/23/2011
The successor models for the best selling Prestigio GeoVision 4500 and 5500, the new top-of-the-line Prestigio GeoVision 4700 and 5700 are already available with iGo Primo software.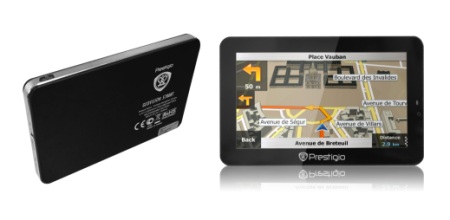 The new GeoVision 4700 and GeoVision 5700 belong to the new GeoVision 7series, which combines latest technologies and best performing software and incorporate all the features of the existing GeoVision range, including detailed map with visualization, famous landmarks in 3D, big internal memory, great quality touch screen display and multimedia capabilities.

In addition to great functionality, the new GV4700 and GV5700 feature astounding design that catches the attention by the combination of the most attractive materials and colors. The front and back sides are made of tempered glass in a frame of solid aluminium.

Both models are available with Bluetooth (GV4700BT and GV5700BT) and come with iGo Primo software, bundled with the most detailed map of following European Countries: Austria, Belgium, Luxembourg, Bulgaria, Croatia, Czech Republic, Denmark, Estonia, Finland, France, Germany, Greece, Hungary, Italy, Latvia, Lithuania, Malta, Norway, Poland, Ireland, Slovakia, Spain, Slovenia, Sweeden, Switzerland, Netherlands, Turkey, United Kingdom, Andora, Lichtenstein, Monako, San Marino, Vatican.