Small and perfect. In-ear Headphones with Microphone Prestigio PEP1 and PEP2
04/07/2011
In-ear headphones have become the most popular choice for portable mp3 players and Smartphones nowadays.
Prestigio PEP1 and PEP2 should be the prime choice for those who are on the market for the product.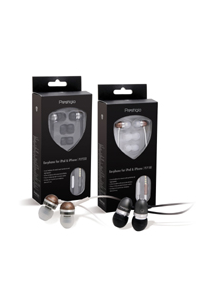 Being small, portable and convenient, it provides you with high dynamics, balanced tones and deep low notes for an impressive, accurate, realistic sound. Prestigio earphone is fitted with in-line microphone with answer/end call button, making your phone calls fun and easy. Also, the microphone is robustly built, but at the same time it is so elegantly designed in the cable that makes it almost invisible.The model is fully compatible with all mp3 devices, iPods, iPhones, Blackberry, HTC and a whole bunch of other Smartphones.When it comes to comfort, the models are supplied with 3 different size ear tips that would perfectly fit and stay very securely in your ear. So do experiment and choose the tip that'll work best for you. You'll also find a neat handy pouch; this will protect your headphone while carrying or not in use. Along with a a choice of 2 colors bronze (PEP1BR & PEP2BR) or anthracite (PEP1GR & PEP2GR), you can match the earphones both with your mobile device and your own style.Besides the outstanding design and compatibility, Prestigio PEP1 and PEP2 convince by an excellent price performance ratio. Look no further for a maximum comfort, optimum sound management, and a personalized fit.