Prestigio Removes Mobile Password Pain Points with True Key™ by Intel Security
03/02/2015
Mobile World Congress, Barcelona, Spain — Mar. 2, 2015 — Today Prestigio announced that it will be one of the first mobile device manufacturers to launch the recently announced True Key™ by Intel Security across EMEA with an initial pre-install roll-out in Russia. True Key is a cross-device application that removes the hassle of remembering passwords. True Key will be available across all of Prestigio's Android tablets and smartphones by the end of this year, making its customers among the first to benefit from the app.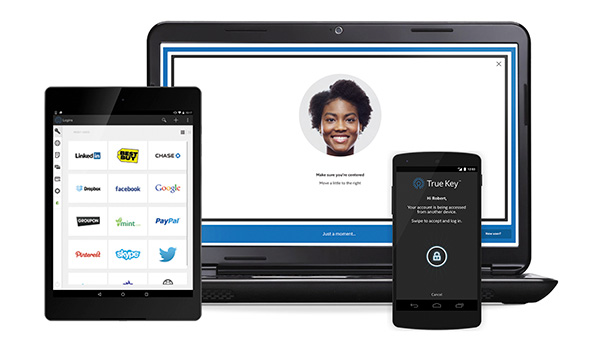 Passwords are becoming problematic as people continue to increase the use of mobile devices. In fact, Russian mobile users have an average of 23 apps on their phone, and a quarter of them have accessed their online banking accounts in the last week1. Remembering the complex passwords and multiple user names needed to log into various applications is difficult, especially when you consider that the average user has 25 online accounts and 10 different passwords.
"Our customers want to manage their digital lives on mobile devices, whether that is on a mobile phone or on a tablet and this technology offers a safer and easier way to do that," says Marek Horyl, general manager and chief operational officer, Prestigio EMEA. "People are expected to create complex passwords across their digital lives and True Key takes away the hassle of typing, creating and remembering them. By quickly logging users into their favourite websites and apps, this advanced technology allows our customers to enjoy the quality digital experience they want from their devices."
True Key by Intel Security unlocks sites, apps and devices by using personal, attributes such as facial features, a fingerprint or devices people own. The biometric technology used in True Key not only removes the hassle of remembering passwords, it also allows people to customize their level of security by using multiple factors to log in – the more factors added, the stronger a True Key profile becomes.
"Using the same easy passwords over and over, or writing passwords down, are the two most popular methods for dealing with the password problem – neither of which are a good solution," says Mark Hocking, VP and general manager of Safe Identity, Intel Security. "True Key is a secure and simple solution for managing passwords. The application puts the user in control by offering customizable multi-layered protection, and essentially allows them to become the password to unlock their digital identity."
True Key also gives users the confidence to know that no matter what Prestigio device they are using - even when they are on the move - they are in control of securing their data and can seamlessly access it wherever they are. Consumers have control over the data stored in their TrueKey account, and they can be reassured that only they (and those they authorize with password sharing) can access it.
True Key by Intel Security is currently available through a limited release and will be generally available later in the year. You can request early availability by joining the waitlist at www.TrueKey.com
About Intel Security
With its Security Connected strategy, innovative approach to hardware-enhanced security, and unique Global Threat Intelligence, Intel Security is intensely focused on developing proactive, proven security solutions and services that protect systems, networks, and mobile devices for business and personal use around the world. Intel Security combines the experience and expertise of McAfee with the innovation and proven performance of Intel to make security an essential ingredient in every architecture and on every computing platform. Intel Security's mission is to give everyone the confidence to live and work safely and securely in the digital world. www.intelsecurity.com
No computer system can be absolutely secure.
Intel and the Intel logo are trademarks of Intel Corporation in the U.S. and/or other countries. True Key and the True Key logo are trademarks of Intel Corporation in the U.S. and/or other countries.

*Other names and brands may be claimed as the property of others.

© 2015 Intel Corporation