Keeping in trend: Prestigio's global event experience of MWC 2014
03/11/2014
Prestigio, an international manufacturer of mobile devices, consumer electronics and accessories, is pleased to share its participation experience in Mobile World Congress 2014 in Barcelona. The event took place on February 24-27, 2014 and featured the latest achievements in mobile technologies that will thrive through 2014.
This year the organisers were happy to announce the largest show in its history with a new attendance record. "This year's industry-defining event, Mobile World Congress once again showcased what's next on the global market. More than 85,000 attendees from over 200 countries were treated to a wealth of learning and networking opportunities, product showcases and announcements, inspiration and innovation, including a profile conference and the world largest mobile industry exhibition with outstanding networking opportunities and various mobile programmes. Also, the event hosted the 19th annual Global Mobile Awards."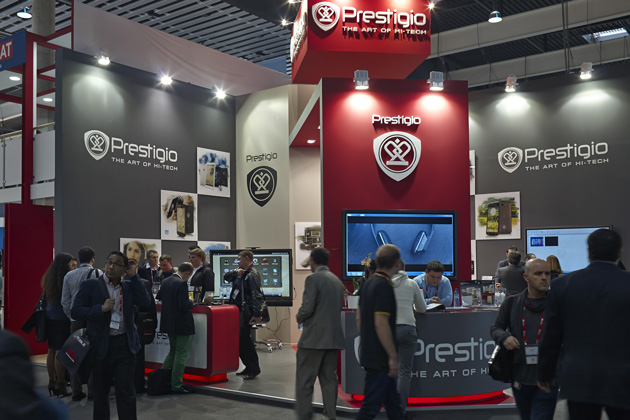 As announced the MWC 2014 featured:
the world's largest mobile industry exhibition;
a world-class conference with the most outstanding speakers from the industry;
NFC Experience, a collection of SIM-based NFC service offerings for attendees;
free and open Partner Events, App Developer Conferences, Forum Series and Power Hour sessions;
mPowered Industries programme for those in the Health, Advertising, Broadcast and Travel industries;
new entertaining, educational and green initiatives as Fitbit Challenge, mYouth Camp and Carbon Neutral Event;
the 19th Global Mobile Awards that highlighted the most acknowledged industry achievements of the year.
The Mobile World Congress 2014 revealed the new main trends of the tablet industry. Tablets with phone functions are starting to catch attention from brand vendors while some major ones are developing tablets for the niche market showing a sign of their concerns over the future tablet market.
Expecting demand for smart communication devices from emerging markets to surge in 2014, brand vendors also showcased several tablets with phone functions during the show, in addition to their entry-level/mid-range smartphones.
With a great number of engaging events taking place at MWC, Prestigio can still boast a great attendance at their stand at the exhibition and a lively interest from visitors to the Prestigio devices showcased. Almost 5000 people a day viewed the company's layout and enjoyed personal hands-on experience with every device. The company managed to show all its flagship gadgets and introduce the latest mobile solutions.
"It was a great opportunity for us to introduce our products to a great audience from all over the world. MWC is the show where the most outstanding mobile devices of the year are seen first. Still, for every participants it is even a better chance to examine the latest mobile trends and feel that you are a part of a wonderful world of new ideas and breath-taking innovations.", - said Yuri Antoshkin, General Manager, Prestigio EMEA.
Among a wide range of Prestigio products exhibited on the stand, their MultiPads and MultiBoards gained the greatest interest. Among all of the company devices, the Colour and Diamond MultiPads received the most reviews in different media while a great performance of the new MultiPhone 7500 gave it a striking launch.