Prestigio MultiPhone 4300 DUO is the best
01/23/2013
More good news from Serbia, the Prestigio MultiPhone DUO 4300 has won "Best Buy" Award from the popular Tech Lifestyle Magazine.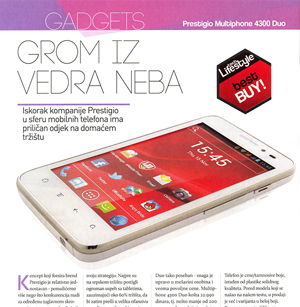 The magazine also published a detailed review of the device and highlighted the benefits of the MultiPhone 4300 DUO
•Prestigio style always gives more than their competitors for the same amount of money;
•Updates are frequent and bring new functionalities;
•It uses the latest version of Android that is not cluttered or over designed;
•Screen is excellent for this class of product and has better resolution than the competition;
•Dual SIM is very useful and you will get used to this feature very quickly

"Prestigio has done a fantastic job. For a little less than 200 euro, you will not find a better phone on the market. Overall user experience was very good and we can heartily recommend it to all the users that do not need ultrafast or expensively branded models" says the author.