NAVITEL® Navigation Maps for Prestigio® Users!
05/23/2013
NAVITEL® Navigation Maps of Western and Eastern Europe Now Available with 90 Days Free Trial Period for Prestigio® Users!
NAVITEL®, a navigation market leader in Russia and Eastern Europe, together with Prestigio®, a leading European manufacturer of mobile devices, consumer electronics and accessories, are launching navigation maps of Western and Eastern Europe with free trial period (90 days) from the date of activation for Prestigio® MultiPhone users in Western and Eastern Europe.

NAVITEL® Navigation Maps are available through New Application Service Prestigio on MultiPhones – check for notifications from Installer Prestigio to download NAVITEL®.
The package "Western Europe" includes the following countries: Austria, Andorra, Belgium, Vatican, Denmark, Finland, France, Germany, Gibraltar, Italy, Liechtenstein, Luxembourg, Malta, Monaco, Netherlands, Norway, Portugal, San Marino, Spain, Switzerland and Sweden.
Maps cover at least 98% of road network, including actual POIs, address information, pass-through routing between all countries. NAVITEL® maps of Western Europe contain 6 139 351 km of road network, 372 362 cities and municipalities as well as 3 770 344 POI.
Residential and industrial city infrastructure with address search, detailed road network, streets and roads, roundabouts, lanes is included into all maps.
Detailed information on Western Europe maps is as follows: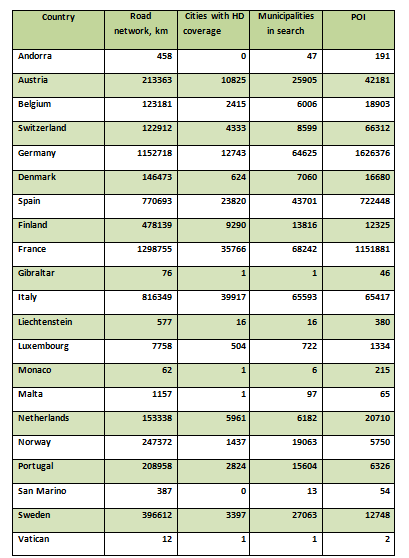 As part of the joint promotion with NAVITEL®, Prestigio® mobile users who have successfully installed NAVITEL® - Prestigio® mobile application on their MultiPhones will get a unique opportunity of a 90 days free trial period from the date of activation with no limit on the number and size of the installed cards. Afterwards, the users will have to purchase a license for the required maps directly from the application in order to continue using it.