Get the Firmware update for Prestigio MultiPad 7 series
09/12/2011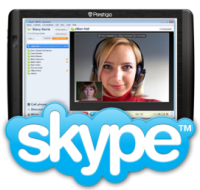 The new firmware edition 2.4.19 for the MultiPad 7series models PMP7100C & PMP7070C enables video Skype calls.

With OTA (Over the Air) technology, both PMP7100C and PMP7070C will automatically find the update and instantly proceed with the upgrade of the firmware.

The OTA update means that you will receive an update message on your Prestigio MultiPad. When a pop up window appears notifying you of a new firmware update, that is the version 2.4.19, then just tap Firmware upgrade > Download Now > OK. Once the download completes, tap Install Now to start the automatic installation.

For a better communication with Prestigio MultiPads.