Opera and Prestigio team up to pre-embed Opera for Android on smartphones and tablets
10/30/2013
Opera Software and Prestigio have announced that the Opera for Android browser will be preinstalled on all Prestigio tablets and smartphones shipped to Europe, CIS, the Middle East and Africa. In Europe, the first devices with the preinstalled Opera browser will go on sale by the end of this year.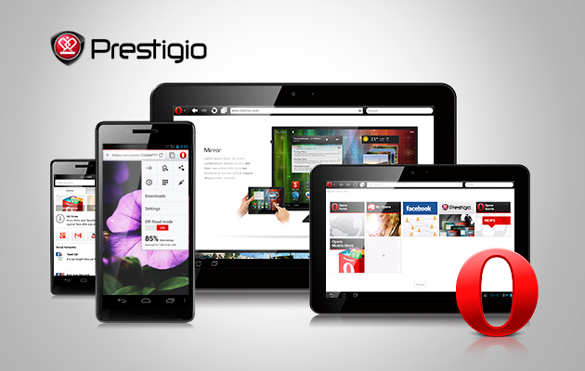 "Through our cooperation with Prestigio, even more users in the EMEA region will be able to enjoy reliable and fast internet access with the Opera for Android browser. This agreement is another important step towards implementation of our growth strategy, aimed to build partnerships with large manufacturers of mobile devices," commented Lars Boilesen, CEO, Opera Software.
"Here, at Prestigio, we always choose the best applications and services for our users. With the Opera browser preinstalled on our mobile devices, we will offer our customers one of the best solutions for a superior mobile browsing experience," added Yuri Antoshkin, General Manager, Prestigio EMEA.
The Opera for Android browser gives users the easiest and fastest way to surf the web. With the Discover feature, users can instantly find top news from their location and categories they prefer, all in one place. Intuitive Speed Dial web shortcuts allow users to group and rename entries easily or gather them in folders — all with the touch of a thumb. In case of a sluggish connection or costly roaming, enabling the Off-Road feature will turn on data compression, reducing the amount of data consumed while browsing on an Android phone.