Prestigio's brand new MultiPad PMP5080 got reviewed by notebookcheck.com
10/20/2011
Notebookcheck.com is one of the most reputable online product review media with an exceptional expertise on notebooks, GPU, CPU and tablet PC. The editorial team from the German office has tortured the new 5series MultiPad PMP5080B in a 10 days test procedure to find out, how much performance you can get at EUR 199. Featuring the new RK2918 chipset, everybody was curious to see, what the results would be like. To the surprise of the experts, the overall result of 84% and a "Gut" ("Good") ranks the MultiPad PMP5080B on the same level like competitors Sony, Dell, Acer or HTC.

You can find the conclusion of the test of Prestigio MultiPad PMP5080B translated from German below, or click the link to access the original review.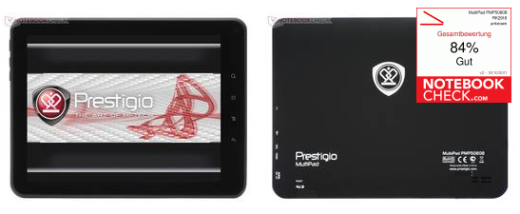 Conclusion (translated from German)
Prestigio offers with the Gingerbread-Tablet-PC Multipad PMP5080B a solid performance in the range of price-attractive Internet- and Multimedia tablets. With a battery run-time of up to 9.5 hours, an easy and comfortable usability, flawless display of Full-HD-Movies and brilliant colors with high contrast, the MultiPad PMP5080B is a multimedia & multifunctional tablet with an attractive price-performance ratio. During the test, the MultiPad PMP5080B made friends quickly. The tablet is very handy and the usage is comfortable thanks to the responsive touch-screen and the easy navigation of the unique Prestigio user interface. The access to Google Android Market as well as the preinstalled apps are fun to use, which makes the MultiPad an attractive mobile companion. The owner has to use alternative ways to connect to the web on the road due to the lack of 3G support. So access via WIFI, tethering via smartphone or a portable hotspot router are required. We are less impressed by the low basic brightness and the viewing angle, the limited 3D gaming performance of the RK2918 processor and the low memory. To everyone, who does really need Honeycomb 3.x, a dual core processor, 3G web access or latest apps for Honeycomb, the MultiPad PMP5080B is an attractively priced entry level model, available at EUR 199.
| | |
| --- | --- |
| | |