Prestigio releases Android Ice Cream Sandwich update for MultiPad 5080
04/03/2012
The firmware update to Android 4.0.3 Ice Cream Sandwich is available now to all owners of Prestigio MultiPad 5080 (PMP5080B) on www.prestigio.com. Included in the download file, there is the detailed instruction on how-to proceed with the upgrade. The support of Android 2.3 Gingerbread will be equally provided by Prestigio until the 1st of January 2013 for all those who do not wish to upgrade for the time being.
Android Ice Cream Sandwich brings an entirely new look and feel to Android on Prestigio PMP5080B, with a redesigned user interface as well as a new design and usage concepts. In summary the upgrade brings out the following enhancements: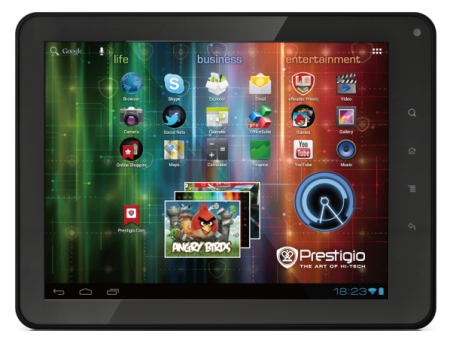 Option to use virtual buttons in the UI, instead of taking up capacitive touch buttons
Widgets are in a new tab, listed in a similar list to apps
Settings are optimized and allow user to tune up the tablet easily
Folders are much easier to create, with a drag-and-drop style similar to iOS
Pinch-to-zoom functionality in the calendar
Gmail has offline search, a two-line preview, and new action bar at the bottom
Improved error correction on the keyboard
Improved copy and paste
Face Unlock, a facial recognition service
New tabbed web browser, allowing up to 16 tabs
Browser now automatically syncs your Chrome bookmarks
Data Usage section in settings lets you set warnings when you reach a certain amount of use and disabling data when you go over your limit
Ability to kill off apps that are using data in the background
New gallery layout, organized by location and person
Refreshed people app with social network integration, status updates and hi-res images
Prestigio MultiPad PMP5080B is recognized as price-performance leader on many markets across EMEA and one of the bestselling tablets by Prestigio. The device comes with a number of carefully selected apps: eReader Prestigio App, Google Play, Maps, SugarSync etc. Preinstalled is also Office Suite Pro, compatible with files from Microsoft Office 2003-2010. One very important asset is the battery capacity, granting mobility up to 9.5 hours. Unlike most other tablets, Prestigio MultiPads come with a stylish leather sleeve for safe portability.