Prestigio GeoVision GV4500TMC performs in Round-up
09/16/2011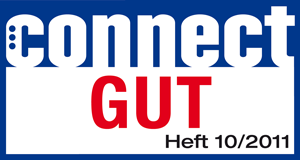 Connect, one of the most reputable IT media in Germany with a strong expertise in navigation, has just published a round-up test on GPS navigators with RRP 99 max.

Prestigio GV4500TMC participated in the round-up all along with Medion, A-rival, and Pearl PNDs.

As an overall result, the Prestigio GV4500TMC became runner-up with a significant distance to rank 3 and 4, giving way to the Medion GPS only.

In the discipline route calculation, the Prestigio GeoVision performed with the best possible top mark "outstanding":

2. Prestigio GV4500TMC 424 points
1. Medion GoPal E3240 EU 433 points
3. A-rival NAV-PNF50.6 403 points
4. Pearl VX-43 Easy 395 points

Besides the route calculation, the editors liked the look & feel as well as the quality very much.