Step up and fight with Prestigio Gaming Mouse!
08/26/2011
We all know that when it comes to gaming, every single detail matters. Talking about a gaming mouse, the design, accuracy and the sensitivity of it make a huge difference between winning and losing. At Prestigio, we want you always to be ahead of the game with our top-notch model range of PMSG2x gaming Mice.

Prestigio PMSG2x is a high quality gaming mouse with great precision. With its 3200 DPI sensor, it is almost seven times more accurate than conventional mice. The sensitivity is adjustable in-game from 400 to 3200 dpi for games and battles that require different types of sensitivity.

A 500Hz poling rate is fast enough to guarantee you a flash-like feedback between the mouse and your computer. Prestigio PMSG2x also features 7 operation modes with according LED lights and 6 programmable buttons, so you can execute as many actions as you want while gaming.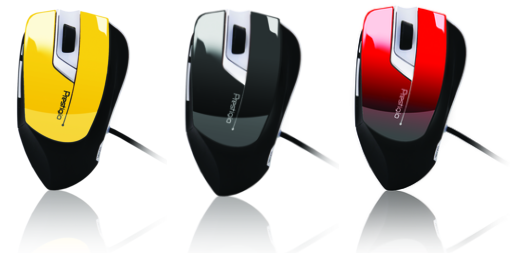 The shape of Prestigio PMSG2x is ideal, with textured sides, nice contouring and ceramic footpads for more accuracy and durability. The ring finger has a nice place to rest, and also the palm grip is powerful and feels natural. The mouse's ergonomic design will give you a maximum comfort during long hours of hard core gaming. The mouse is available in Italian red, flaming yellow, and titanium grey colors, making it a very nicely designed gaming accessory.

Prestigio PMSG2x is an amazing gamer mouse packed with extra functionality and performance that you would expect for twice the price it's being sold at.