Prestigio Poland at Mobility Trends Gala
01/24/2012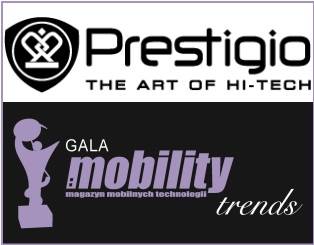 Prestigio Poland is glad to take part in Mobility Trends Gala, the biggest event of telecommunication business in Poland.

Prestigio proposed three devices to the contest organized by Mobility magazine: Prestigio MultiPad PMP70743G tablet in Tablet of the Year category, RoadRunner Car Video Recorder in Gadget of the Year category and PER 3562B e-book reader in Accessory of the Year category.

The voting was taking place on the official website of the event from the 12th December 2011 to the January 20th 2012, while the results will be announced during the official ceremony on the 2nd of February 2012.

Besides competing for the Gold Bell statuette, Prestigio is very proud to be the official partner of the event.