Prestigio MultiPad PMP5080B on super price for St. Valentine's !
02/09/2012
Buy Prestigio MultiPad PMP5080B with a Special Price for St. Valentine's Gift!
With 50€ discount only until 14th of February, we aim to give more people happy moments on that special day! Prestigio MultiPad 5080 - a unique St. Valentine's Gift for Him & For Her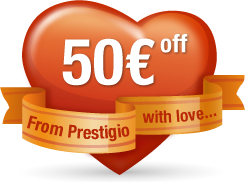 ---
For Him
Transfer your MultiPad into real game center and enjoy with your mates a unique 3D gaming experience. Wath movies with best quality at 1080p (full HD) and connect your MultiPad via HDMI to a larger monitor or TV screen for XXL HD multimedia entertainment. Work with Office documents and send mails, check latest news, weather forecast and financial stock.
For Her
Easily find and download your favourite novel to read before sleep with e-books app, share pictures from your last party on your social networks like Facebook and Twitter, make a video call via Skype or chat with the girls on MSN. Listen to your favourite songs or find a video on YouTube. And ofcourse - shop online anytime anywhere!
---
Because We Just Love this Gadget!
This 8" Android tablet is conquering the hearts of many gadget enthusists, fashion followers and simply young modern people due to its entertainment features and technological advancements. Its popularity is growing worldwide: "Recommended by Mobi-Test.de" award, Price Performance Ratio" award by Chip Online, a gift for competition organized by Build.de and 20th Centuare Fox in line with the launch in germany movie "This Means War" featuring Reese Witherspoon, Chris Pine and Tom Hardy. Read more news about Prestigio MultiPad 5080.

Recently, another reputable source reviewed Prestigio MultiPad PMP5080B - Notebookcheck.com has published videos and review about MultiPad 5080 model with high ranks. Watch Prestigio MultiPad 5080 in action.