Prestigio sponsors "Best cars 2012", Romania
10/03/2011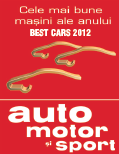 Prestigio Romania is sponsoring the contest/survey "Best cars 2012" being held by the national online automobile magazine "Auto Motor & Sport ".

"Best Cars" is the most popular online survey among Romanian car lovers, which is held every year and offers the readers of the magazine to directly appoint, on their belief, the best cars in each class.

For the edition 2011, the magazine presents 315 Best Cars split by 10 categories depending on the type and the dimension of the vehicle: mini, small, compact, medium, big, Lux, Sport, Cabrio, 4x4 and Monovolume.

As one of the sponsors of Best cars 2012, Prestigio will award 10 winners with 5 Prestigio MultiPads and 5 Prestigio RoadScout Navigation Devices.