Prestigio PC passed Windows 7 HW certification
07/30/2012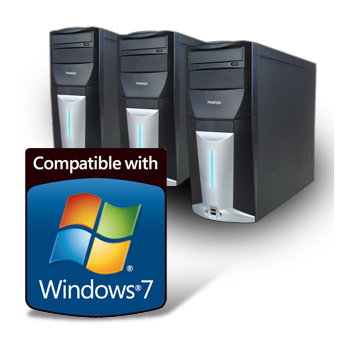 Prestigio has successfully finished Windows 7 hardware certification process for Prestigio Desktop PC Office 7 series.
Prestigio Office 7 is now being featured on the Windows Logo'd Product list. The site (formerly known as the 'Windows Hardware Compatibility List' or 'HCL') has been repurposed to display a comprehensive list of hardware products logo'd for Windows - from components to input devices, peripherals to mobile devices and everything in between. The users can test Windows 7 tab to confirm Windows 7 Status or even download a Logo Verification report.
Prestigio Office 7 series is the second desktop computer by Prestigio certified for Windows 7 after Prestigio Office 5.
Representing the premium offer for business users, the newest configuration of Pretigio Office 7 series features:
Intel Core i7 2600K 3.4GHz,
8GB DDR3 1333MHz,
Intel® Q67 Express Chipset,
1TB HDD SATA, DVD RW 24x,
Intel® HD Graphics,
Intel® High Definition Audio ( 8-channel),
Gigabit (10/100/1000 Mb/s) LAN,
Windows 7 Professional.