Prestigio MultiPad 7.0 Prime Duo succeeds at NotebookCheck review
12/13/2012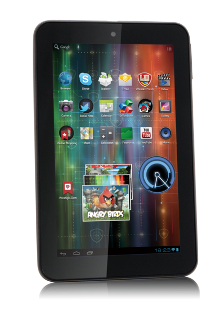 Prestigio MultiPad 7.0 Prime Duo showed a strong performance being reviewed by famous German resource NotebookCheck providing detailed tests, reviews, news, technical information about notebooks and tablets on 11 languages. In the editor's vote for the tablet of November, Prestigio device was among the top 3 with Apple iPad Mini (final winner) and Microsoft Surface. In their overall ranking of 7.x" tablets, the PMP5770 is among the top 4.
Click here to read the review
VERDICT of NotebookCheck
Prestigio is providing a good all round package for the tablet PC segment under 200 Euros or $260 with the 7-inch MultiPad 7.0 Prime Duo (PMP5770D). Those looking for an insider tip among the value for money entry-level tablets (150 Euros or $195) with Android 4.0 Ice Cream Sandwich should consider the full access to the Google Play store, the thin and light body, the good quality case, as well as the exceptional IPS display featured in the Prime Duo from Prestigio. In our test the Prestigio MultiPad managed to primarily score points when it came to its dimensions, weight and manufacturing quality, as well as the rating for the display. In this case the MultiPad 7.0 is able to easily contend with more expensive tablets, such as the Kindle Fire and the Nexus 7.
Click here to watch video