Prestigio MultiPad Visconte 2. Growing faster and more powerful
06/17/2014
Prestigio, an international manufacturer of mobile devices, consumer electronics and accessories known in 85 countries, today announced its new Windows Tablet – the Prestigio MultiPad Visconte 2.
It is the successor to the Prestigio MultiPad Visconte and has a more powerful processor, a rear camera and a long-lasting battery to give the best quality of a tablet PC at an affordable price.
"Last year together with Intel and Microsoft we developed a successful Prestigio MultiPad Visconte for small and medium businesses, students as well as for a wide range of consumers that choose Windows tablets. We understood that lots of tablet users need powerful and mobile computers run by Windows as they are familiar with the OS and use business, educational and other applications that can only work under Windows OS."
"Having received a great deal of positive feedback on this model we have decided to release an upgraded version of the Visconte, more powerful and media enhanced. So, meet the Visconte 2, — the fastest Prestigio tablet PC" declared Yuri Antoshkin, General Manager, Prestigio EMEA, on the new tablet release.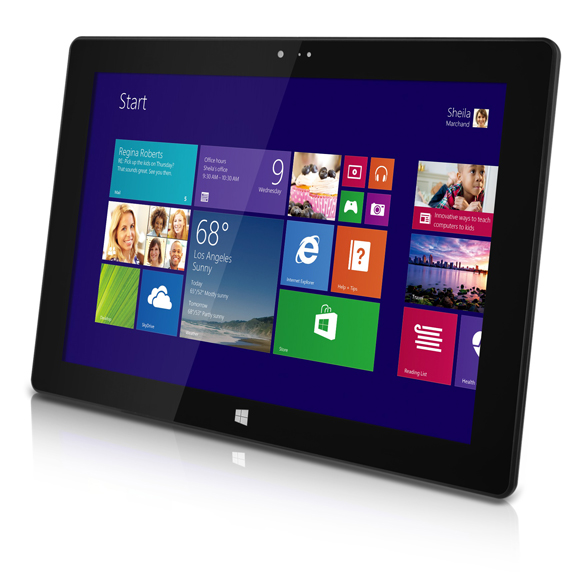 Advanced and more productive: a 3-step improvement
The new MultiPad Visconte 2 operates on the latest Intel® Celeron® Dual-Core 64-bit processor at up to 2.0 GHz for a better processing and graphic performance. Multitasking, working with connected devices and using various software and applications becomes a quick and easy job with this more powerful chipset on the Visconte 2.
Such productivity is supported with an enhanced battery of 6400 mAh that allows over 5 hour video playback or a full day working on this tablet without recharge. This makes the Prestigio Visconte 2 a reliable companion in everyday use on the go. Added to a front 1.0 MP camera, the 5.0 MP back end camera extensively broadens media opportunities. Taking pictures of special moments, making and sharing incredible videos and broadcasting live video streams — all this is easy to make on the new Prestigio Visconte 2.
Still cute and bright
As with its predecessor, the MultiPad Visconte 2 is remarkable for its amazing view due to its 10'' IPS display with 1280x800 pixels resolution. The new tablet can also boast an outstanding connectivity due to Wi-Fi, 3G, Bluetooth 4.0 Smart and Windows 8.1 on board, which will provide access to a wide range of connected devices such as printers, scanners, cameras and a great number of other accessories.

MS Office Home and Student 2013 editions free are preinstalled, so all the benefits of these suites are available, including thousands of apps from the Windows Store. Also, saving documents, photos, and other files to SkyDrive is automatic, so it's possible to have them anywhere—even on another device.
An internal memory of 32/64 GB can be extended with up to 64 GB more by Micro SD memory card. Plus don't forget to get your free 200 GB of cloud space at Prestigio MultiCloud.
The Prestigio MultiPad Visconte 2 will be available to consumers at the RRP from 290 EUR in the end of Jun 2014.