Prestigio Multiphone - the Editor's choice!
12/12/2012
MultiPhone 4300 Duo was reviewed by popular Slovakian IT resourses MojAndroid.sk and PC Revue in December.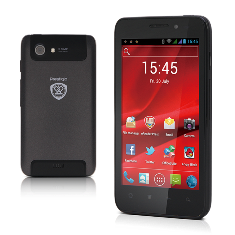 Mojandroid.sk:
"At the cost of moving around 180 € you get a well-equipped smartphone that will not disappoint its performance or features. It offers a decent camera, good battery life, and particularly support for two SIM cards. Prestigio left a very positive impression on us, therefore it earned the award Editor's Tip."
To see review click here.
PC Revue:
"Prestigio is for us one of the biggest surprises this year! It brings to market phone with 4.3-inch IPS display in a good configuration, in which nothing important is missing. Moreover, it can actively work with two SIM cards simultaneously. And most importantly, look at the price! Smartphone was marked by PC Revue as "Price Bomb!"