Prestigio marks 10-th Anniversary by new line of cutting edge Dual SIM smartphones
11/12/2012
After the successful launch in CIS of the pilot model MultiPhone 4000 Duo, the first smartphone ever by Prestigio, the company takes the next step to make its footprint on this strongly growing market in the entire region of Europe and CIS countries.
In 2012 the Prestigio has achieved significant success in selling tablet PCs. Thanks to MultiPad 9.7 Pro and MultiPad 9.7 Ultra the company managed to break into the top largest suppliers of tablets and got up to 25% market share in multiple countries in the region of Central East Europe just after Apple and Samsung.
After the tremendous success with the Prestigio MultiPads across EMEA, we have received many requests from both resellers and end-users to adopt our product concept to Android Smartphones. The MultiPhone Family is the result. Very good price performance ratio, great usability right out of the box, attractive design and very good build quality." states Yuri Antoshkin, COO of Prestigio.
There are three models representing the line extension, and all have one useful feature in common – the support of Dual SIM. Switching between SIM cards anytime by simply pressing the dedicated hardware key gives the convenience of having two phones in one and the possibility to keep the work and leisure time apart. By using this advantage, it is easy to combine two different tariffs or service providers at the same time.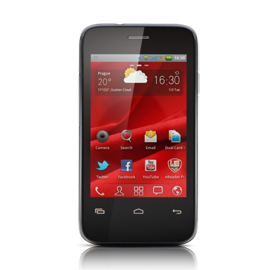 MultiPhone 4300 DUO
MultiPhone 4300 DUO (PAP4300DUO) features a 4.3"|10.9cm IPS multi-touch display which provides a brilliant, crisp and vivid picture. This smartphone has a Cortex A9 1GHz CPU which keeps Android 4.0 Ice Cream Sandwich and apps running smoothly and fast. Besides the cellular connectivity HSDPA,HSUPA, 3G/UMTS and GSM Quad-band, the MultiPhone 4300 Duo comes with WIFI and Bluetooth. One highlight is the rear camera with 5Mpx and auto-focus, the front camera offers 0.3Mpx for video-calls. Features as GPS, FM radio, proximity sensor as well as light sensor and an e-compass are also included in the light-weight stylish phone. This set of features makes the MultiPhone 4300 Duo a complete and powerful Android smartphone which addresses both business people and private users.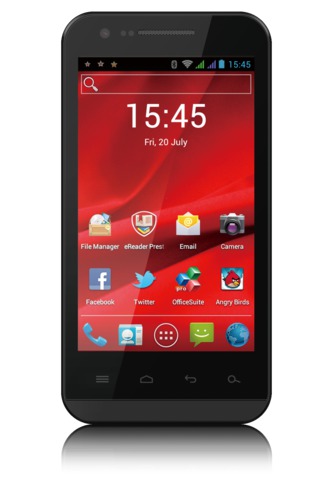 MultiPhone 4040 DUO
The next model within the line extension is the MultiPhone 4040 DUO (PAP4040DUO). This Android smartphone is basically the "little" brother of the MultiPhone 4300 DUO, as it shares all specifications but for a slightly smaller display size of 4.0"|10.2cm. Both models come packed with carefully selected apps for usability right out of the box, just to name a few: Youtube, Skype, Facebook, Twitter, Games like Angry Birds, Office Suite Pro and the eReader Prestigio: a highly customizable app for reading ebooks with a direct link to the eBook store on PrestigioPlaza with more than 260,000 ebooks in 23 languages.
MultiPhone 3500 DUO
Android smartphone comes with a 3.5" | 8.9cm capacitive multi-touch display and targets people, who fancy the multi-functionality but do not need a large screen and rather look for a budget solution.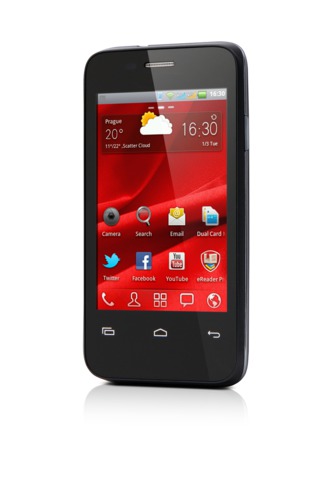 A 1GHz Qualcomm CPU powers the Android 2.3 Gingerbread OS and numerous pre-installed apps, carefully selected for various purposes.
Besides the standard Android applications you will find Skype, Twitter, Facebook, the ereader Prestigio and many more. The great usability about the apps is completed with features like 3G WIFI, Bluetooth, GPS and a 2.0 MPx in this super-mobile pocket-sized design.
The storage capacity of all three MultiPhones can be extended with a microSD card up to 32GB and every phone has a microUSB port for charging and data transfer.