Russia and Belarus welcome new MultiPhones
11/18/2012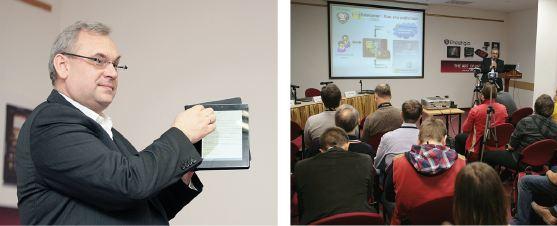 Prestigio's 10th anniversary and the release of new Prestigio product lines created the perfect opportunity for a press conference in Moscow last week.The complete brand history, starting with the production of Prestigio monitors in 2002 to smartphones and tablets in 2012, were highlighted during the event.
ASBIS President Sergei Kostevich personally presented the latest Prestigio devices running Android 4.0, which have entered the Russian market or are just getting ready to enter it, including Prestigio are committed to supporting their devices even after they have been sold, with regular release updates of Android, as well as offering access to a range of commercial applications and games for free. During the press conference journalists were told about free access to OfficeSuite PRO, an annual license for the mobile version of AVG Anti-Virus, annual subscription for GLOBO GO!Enterprise Office (secure mobile productivity & collaboration solution) and games from Gameloft - Ashphalt 7, Nova 3 and LetsGolf.
In addition owners of Android gadgets can download a special Prestigio eReader application with access to its own e-book store, including texts in the Russian, Belarusian, Kazakh, Ukrainian and Polish languages.

Another press conference was successfully held on November 14th in Minsk to introduce the new models of Prestigio smartphones.The event was attended by more than 30 leading Belarusian printed and online media representatives.
Speakers, including chief executives of IT-Max, ASBIS and ASBK described the merits of the new Prestigio MultiPhone line and demonstrated these devices in real life.
As the features of the smartphones were presented at the press conference, great interest was generated about the availability of business applications and free access to popular software packages.Prestigio also announced a New Application Service (NASP) that hosts free applications which have been tested by experts of the company.

The press conference concluded with a fascinating quest to discover and capture all of the functions of the new Prestigio smartphones. Winners were duly rewarded with a few brand-new Prestigio MultiPhones. The press and bloggers then discussed the merits of the new smartphones with Prestigio experts.