Prestigio tablets and smartphones to feature Investing.com's Financial Markets App
03/31/2015
Prestigio proudly announces the start of its newest partnership, with global financial portal, Investing.com.
Prestigio tablets and smartphones now offer a new, cutting-edge feature. With Investing.com's Financial Markets App pre-installed on new phones beginning April 1st, and already available to download from the MultiStore at no cost for older Prestigio devices, customers benefit from an advanced financial tool on their phone that's completely free.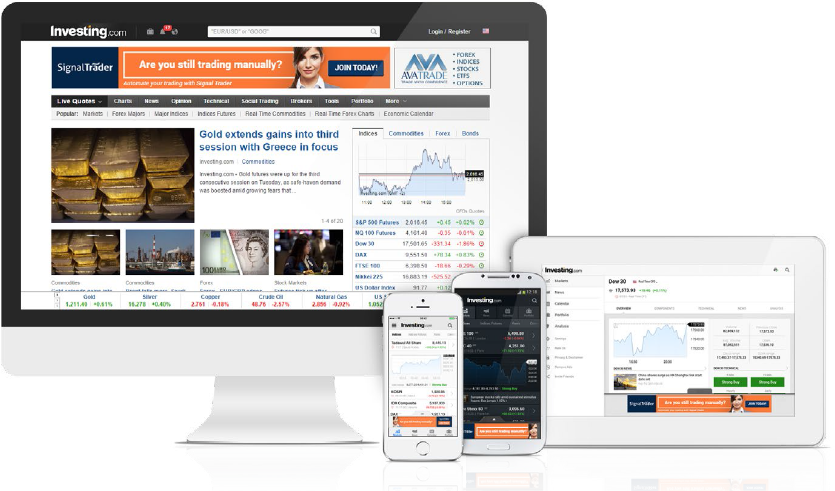 Investing.com's Android Financial Markets App is top-rated, providing all the breaking, critical information about prices, announcements and events that move the markets. Which is precisely what traders and investors need in order to succeed. This leading Financial Markets App delivers real-time streaming quotes for thousands of financial instruments including Forex, Stocks, ETFs, Commodities, Bonds, and Global Indices. Among the key deal benefits: Prestigio users will receive 45 days ad-free as a bonus.
The Investing.com Financial Markets App keeps you constantly updated—even on the go—about everything going on in the market. Its foremost benefits:
• Real-time quotes for over 40,000 financial instruments, traded on over 70 global exchanges, with LIVE charts and analysis tools.
• The fastest, most comprehensive, real-time economic calendar alerts, allowing users to stay on top of breaking global economic events.
• Latest analysis from the financial industry's top experts.
• Beyond the G-10: Extensive coverage of Emerging Market economies.
• Availability in 18 different languages.
The Investing.com Financial Markets App also allows you to customize the portfolio tracker, making it simple to follow your favourite financial instruments. Plus, the live signals feature, which is based on an advanced technical indicator system, makes Investing.com's Financial Markets App the perfect market tool for traders.
The Investing.com Financial Markets App features a robust array of free trading and analysis tools, similar to those currently available only to Bloomberg subscribers for a significant fee.
The Investing.com Financial Markets App will be available FREE on Prestigio devices beginning April 1, 2015.
About Prestigio®
Prestigio® is rapidly growing in more than 85 countries across Europe, the Middle East and Africa. For more than a decade, Prestigio has been crafting innovative IT and consumer electronic products of superior quality, style and affordability. Prestigio - The Art of High-Tech is the company`s slogan and our mission is simple: to make people's lives more efficient, convenient, and enjoyable. Our aim is to facilitate your daily life. Whether in business, education, home, or entertainment, Prestigio leads to succeed. Since 2011 Prestigio has been the leading brand across Central and Eastern Europe, Russia and CIS in GPS navigation and has achieved a top-3 position amongst Tablet PC brands in the region. To learn more about Prestigio, please visit www.prestigio.com
About Investing.com
Investing.com is a global financial portal and internet brand composed of 23 editions in 19 languages and mobile apps for Android and iOS that provide news, analysis, streaming quotes and charts, technical data and financial tools about the global financial markets. Each edition covers a broad variety of local and global financial vehicles including Stocks, Bonds, Commodities, Currencies, Interest Rates, Futures and Options. Founded in 2007, Investing.com has a growing readership worldwide and is now a leading global financial portal committed to constantly launching innovative features and sections to ensure an optimal one-stop source for its readers. Read more at www.investing.com