Prestigio /Canyon Global Retail and Partner Event Held in Rome
06/18/2007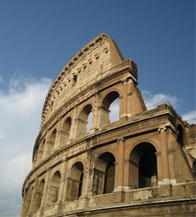 Prestigio and Canyon hosted a Global Event for retailers and partners in the capital of Italy on June 8-9, 2007. The Event attracted participants from all over the world: from South Africa to Estonia, and from Taiwan to Ireland .
Prestigio and Canyon presented their new product lines to an international crowd of 120 attendees from 20 countries . The Event provided a vibrant mix of serious business meetings, recreation, and sightseeing tours of ancient Rome.
In a friendly and relaxed atmosphere Prestigio and Canyon presented their image as trendy and constantly renewing brands with a touch of high style and prestige. Presentations were held in one of Rome's most impressive hotels – Sheraton Golf Parco de' Medici. Canyon's managers unveiled some of the hot new products, and shared their vision of market trends.
In the evening the guests enjoyed the view of Rome on an unforgettable city tour. The Event 2007 proved to be a huge success, and both Prestigio and Canyon teams thank all attendees for their active participation , and hope to welcome them again at the next Global Event.