Prestigio Wize 1177 4G
06/19/2018
The Prestigio Wize 1177 4G is an affordable tablet that supports high speed 4G Internet. A high-quality screen, quick performance, compact and stylish design will attract all who buy popular devices at reasonable prices.
Fans of high-speed Internet will appreciate the new solution from Prestigio. The compact 7-inch tablet is a practical device for surfing the Internet, social networking, reading, viewing photos and videos.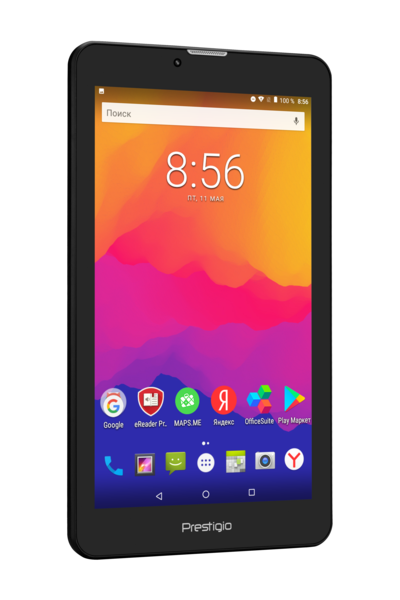 The Prestigio Wize 1177 4G has been created with a high-quality screen. Thanks to the IPS matrix, users see images, saturated with realistic colours, in any light conditions, and the resolution of 600x1024 makes the images clear and concise.
The device is high performing. Users will appreciate the quality of the quadcore processor when using the device for viewing movies, photos, searching for information and when using social media. High autonomy of the device is provided by 2500 mAh lithium-ion battery. Thanks to the smart power saving mode Doze the tablet has longevity and the operating system Android 7.0 Nougat allows you to easily and quickly change the settings.
The tablet has dual SIM cards, which allows you to optimize your budget. As per standard in every modern tablet, the Prestigio Wize 1177 4G includes 2 cameras. Thanks to them, you can take pictures and communicate via video chats at any time.
It is worth noting that the design of the device is well thought out. 7 inches is the optimal diagonal for the tablet to remain comfortable on the eyes and sufficient for constant and long- term use. Its soft black case, covered with soft-touch plastic is comfortable and easy to hold. Due to the high ergonomics of this material, the Prestigio Wize 1177 4G looks stylish, neat and does not slip out of the hand.