Prestigio® GeoVision 5056, 5057, 5058
12/04/2015
Prestigio, an international manufacturer of mobile devices, consumer electronics and accessories known in 85 countries, announces the release of the new range of stylish and highly effective navigators with Navitel navigation, 3D maps and voice guidance – Prestigio® GeoVision 5056, 5057 and 5058.
"If you consider your car more than a transport but a part of your style you will adore the new navigators we are pleased to release this autumn – Prestigio® GeoVision 5056, 5057 and 5058. Much-loved Navitel navigation with 3D maps, lifetime map updates, voice guidance, powerful 800 MHz processor and bright 5 inches display together with stylish elegant design – with these navigators you'll get more than a practical useful device, you'll get a real accessory to your car!" Anton Volchenkov, Chief Commercial Officer, Prestigio EMEA.
Productive and powerful
When you navigate in a traffic jam or search for a destination in a foreign town you have to be sure that your navigator reacts immediately. With powerful Mstar 800 MHz processor you will never worry about the speed of data processing and route calculating. Everything goes smooth without pauses.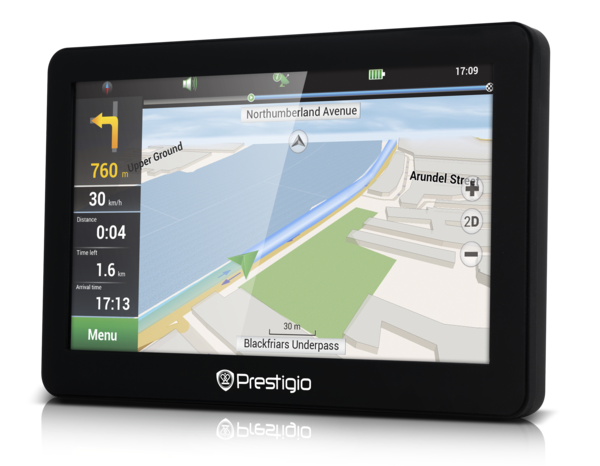 Your best navigator
Navitel is one of the most popular navigation systems in Europe, Asia, Latin America etc. It was appreciated by millions of users because it is highly detailed and convenient to use. Try this popular navigation system for free with Prestigio® GeoVision 5056, 5057 or 5058 and never worry about the quality of services provided. Stay up-to-date and get all the updates on http://navitel.ru/en/downloads. 

Modern design
The top feature of Prestigio® GeoVision 5056, 5057 and 5058 is their stylish design. It is minimalistic while elegant and exquisite, it fits both an aggressive design of a sport car and a temperate appearance of a business-class automobile. If you prefer modern hi-tech style, pay a special attention to Prestigio® GeoVision 5058 – with its metal casing that accomplishes elegant design of a product line you can be sure your car will get a stylish accessory that will allow it to stand out in a car stream.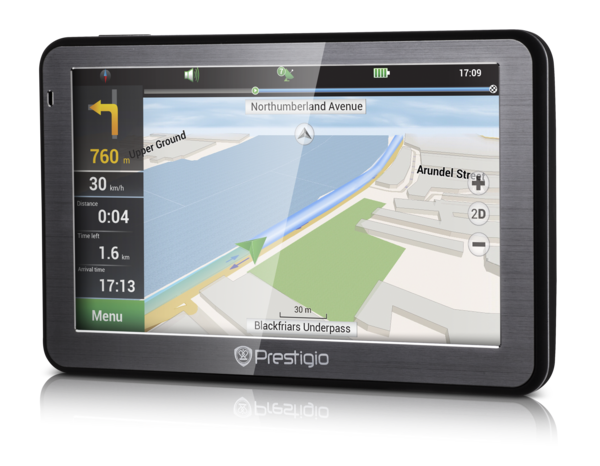 Quality means usability
The new line of Prestigio® navigators is the best example of the modern tendency – when high quality ensures perfect usability and easiness to manage all the regular tasks. Bright 5 inches display guarantees that you will enjoy navigation without false touches or bad visibility. Experience the high level of usability with Prestigio® GeoVision 5056, 5057 or 5058.
Like a guidebook
Take an additional advantage with millions of places of interest pre-loaded. When you travel to any destination your navigator will suggest you lots of places to visit on the way to. See historical monuments and natural resources and add new points on a map to visit again. Moreover you can download new databases from Internet, including police speed cameras database and receive notifications every time you approach them.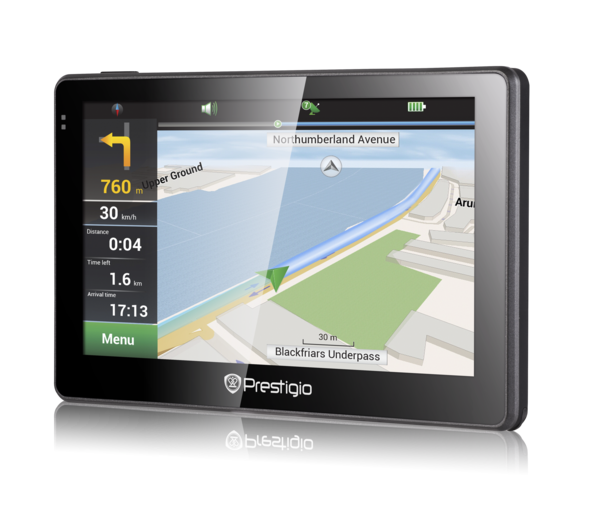 Caring about your convenience
Prestigio® takes care about all the users of its devices so you will get much more in the box then a regular navigator. Enjoy non-stop operation of the navigator due to DC Car Charger, simplify the customization and controlling with brand Stylus. Quick Start Guide and Warranty card are included as well.