Natalia Hadjiloizou - the Cypriot national swimming team
06/14/2007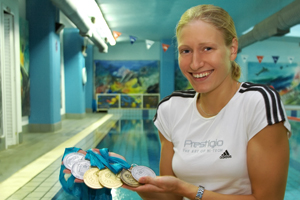 Natalia Hadjiloizou, a member of the Cypriot national swimming team, has won a total of 6 medals at the XIIth Games of the Small States of Europe , also known as Small States Olympics, which took place on June 4-9, 2007 in Monaco.
Natalia (28), sponsored by Prestigio since 2006, won a personal gold medal in the 100m butterfly , where she clocked 1:02:69. She also took silver in the 50m and 100m freestyle, and shared gold, silver and bronze with her team-mates in 3 relays.
Despite the fierce competition from their Icelandic rivals, Natalia and her Cypriot team-mates from both women's and men's swimming squads have been able to accomplish the total of 6 gold, 11 silver, and 7 bronze medals. Thanks to their efforts, the Cypriot national team has been able to bag the largest number of medals , and, consequently, Cyprus has been selected to host the next Games in 2009.
The European Olympics Committee launched the "Games of the Small States of Europe" in 1985, with their first edition organised in San Marino. Since then, this multi-sport event, for the athletes from the 8 countries of our continent with less than one million inhabitants, has taken place regularly every two years, with ever growing success. The 2007 Games were opened in Monte-Carlo by International Olympic Committee President Jacques Rogge and Prince Albert of Monaco.
Natalia Hadjiloizou , born in Belarus in 1979, now lives in Cyprus. She is married to a Cypriot, and her husband acts as her coach. Natalia has an impressive track record of participation in high-profile international sports events. Among her best achievements are the titles of European Champion (2000), 6th place at the Olympics in Sidney (2000), 3rd place in the World Cup (1999).
This talented athlete is also a caring mother of a 2-year old daughter. Natalia adores reading books and using her Prestigio computer for work and entertainment.