Prestigio MultiPad 4 Diamond is Now in 10.1-inch Format
07/14/2014
Prestigio, a dynamic international vendor of state-of-the-art IT and CE products for style-conscious consumers that is among the top 5 Tablet PC brands and #1 in the mobile navigation market in the countries of CEE, has released the new MultiPad 4 Diamond 10.1 3G.
Following the success of the MultiPad 4 Diamond 7.85 3G, Prestigio has released the MultiPad 4 Diamond 10.1 3G – a luxury aluminum 10.1-inch tablet in a sharp and edgy design with a unique texture on the back panel. The new MultiPad is available in black and white colour options with a stylish leather pouch of the same colour included.
The Prestigio MultiPad 4 Diamond 10.1 3G features a bright and crisp IPS display with a resolution of 1280 x 800 pixels which makes it perfect for viewing presentations, writing emails and reading or watching movies on tablet. By connecting to a TV or monitor via HDMI output, it is also possible to view content on a large screen. The Quad core processor ARM Cortex A7 at 1.2GHz, powered by MediaTek chipset MT8389, excels expectations and provides flawless performance. The fast 3G internet with download/upload speeds up to 42Mbps/11Mbps establishes secure connection anywhere anytime. By inserting an additional SIM card, users can also make phone calls and send messages. The Prestigio MultiPad 4 Diamond 10.1 3G also has built-in GPS and FM receiver essential for travelling.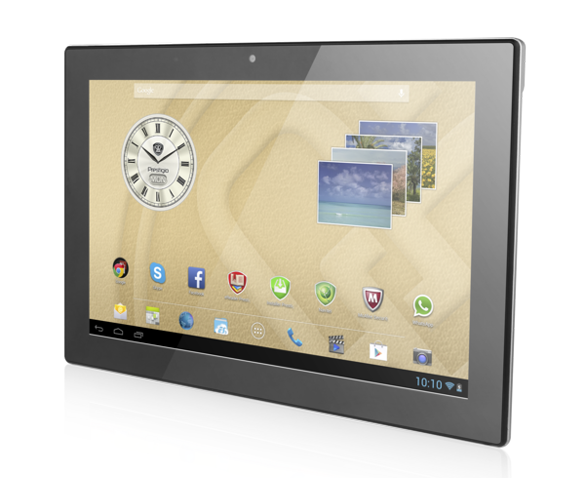 To stay in touch while away, it offers a webcam for video calls, as well as having a rear camera for taking photos and sharing them straight to social networks. The storage capacity is as spacious as the device itself: 16GB of storage built-in with the possibility to expand it via an optional memory card up to 32GB plus 200GB of free cloud storage with the Prestigio MultiCloud app.
Running an intelligent Android OS, it comes already preinstalled with many useful apps: Google apps, eReader Prestigio, OfficeSuite Pro, Deezer , McAfee Antivirus, Bloomberg, Wikipedia, Navitel navigator, Facebook, Twitter, WhatsApp, Vkontakte, Hills of Glory 3D, NARR8, Megogo.net and many others (availability of apps varies by model/region). To download more apps, Prestigio MultiStore offers free and prepaid apps especially for Prestigio users with up to 70 EUR savings and more than 1,000,000 apps are available from Google Play.
The Prestigio MultiPad 4 Diamond 10.1 3G comes with an exclusive leather pouch in premium packaging suitable for a luxury gift.
The new Prestigio MultiPad 4 Diamond 10.1 3G is available to customers in the beginning of July at a RRP of 249 EUR.
The Prestigio MultiPad 4 Diamond 7.85 3G is available now at the RRP of 199 EUR.