Prestigio MultiPad 8.0 HD Released
05/10/2013
The new Prestigio MultiPad 8.0 HD, featuring an 8-inch LCD display with a resolution of 1280x768 pixels, provides excellent picture clarity and brightness for a realistic look. In combination with the powerful Dual Core processor ARM Cortex A9 (AML8726-MXS) with a frequency of 1.5GHz, a dual core graphic card and 1GB of memory, it delivers the best widescreen entertainment.
The Prestigio MultiPad 8.0 HD is one of the first Prestigio tablets with the latest OS – Android 4.2. Already preinstalled with many essential apps such as Browser, Email and Maps, the device is ready to use right out of the box. Here users will also find popular apps such as Facebook, Twitter, YouTube, Skype, Barcode Scanner, EverNote, Sugar Sync and of course Angry Birds. Among the business apps, the paid version of Office Suit Pro is already installed as well as financial assistant Blue and Stock Alert. It's also worth mentioning the Prestigio eReader app, which provides access to more than 620,000 eBooks in 24 languages, 30,000 of which are free. In addition, users can download more than 700,000 apps for various interests from Google Play.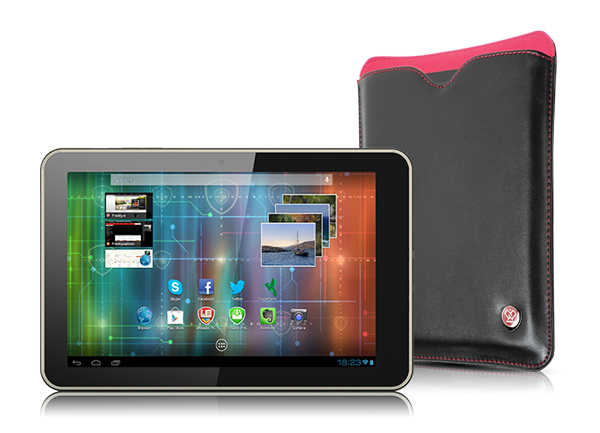 The comfortable 8-inch format is still spacious enough to watch Full HD movies at 1080p quality and play 3D games and it will still easily fit in a bag for easy portability.
The Prestigio MultiPad 8.0 HD also features a long battery life of 5000mAh and is charged via the microUSB port making it a truly mobile device. The microUSB output can be also used for connecting external hard drives, peripherals and 3G dongles for extra comfort. The internal memory of 8GB can be expanded with an additional 32GB via a microSHDC/microSD memory card and another 5GB of cloud storage is available with the preinstalled SugarSync application. To stay in touch with friends and family, the Prestigio MultiPad 8.0 HD offers a high speed Wi-Fi and video calling feature via the built-in VGA webcam.
With the Prestigio MultiPad 8.0 HD users also get a stylish leather case for safe portability and an international warranty of two years.
Prestigio MultiPad 8.0 HD will be available to end users in the beginning of June.