Prestigio MultiPhone 5508 DUO. Take full advantage of Octa Core at an affordable price
07/29/2014
Prestigio, an international manufacturer of mobile devices, consumer electronics and accessories known in 85 countries, announces the release of its new flagship smartphone – the Prestigio MultiPhone 5508 DUO.
"It shows incredible performance and productivity due to a powerful Octa Core processor. It's truly best-in-class and now our customers have a perfect chance to experience it. Eight cores easily manage any task with outstanding energy and efficiency. Gaming becomes mega fun on this phone! A gorgeous 5-inch display and intelligent video enhancement add amazing emotions to overall impressions. We certainly didn't miss a thought about design: it's simply beautiful," commented Yuri Antoshkin, General Manager, Prestigio EMEA, on the MultiPhone 5508 DUO release.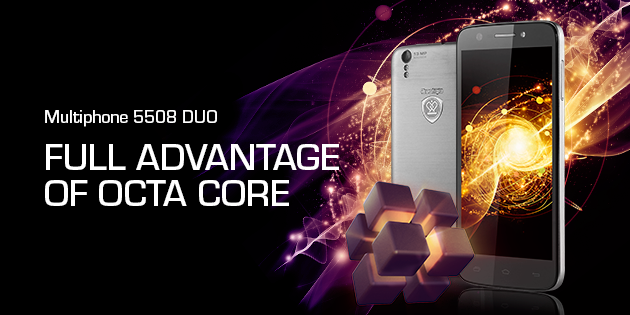 Octa Core: super productive and power efficient
Eight cores of the MediaTek MT6592 processor are completely independent. Operating together they run even the most demanding apps while the lighter tasks are completed with only one core. It facilitates the powering down of the other cores to prolong battery life. This feature is perfect for achieving the best multitasking performance. Octa Core enables a great number of apps to function equally effectively at the same time, both low-power and those requiring resources.
Breath-taking graphics on the MultiPhone 5508 DUO are powered by Octa Core CPU and Quad Core GPU. This combination creates unbelievable emotions while playing games. Intelligent video enhancement, Clear MotionTM, ensures high-definition entertainment: everything from sport to action movies look just fabulous.
Best picture embraced in high-quality design
The Prestigio MultiPhone 5508 DUO features an amazing crystal clear picture on a wide 5" IPS display with HD (720x1280) resolution and full lamination. It is absolutely perfect for comfortable reading, watching movies and surfing. DragonTrail glass protection ensures superior resistance to scratches and damage.
This outstanding display is embedded in a slim, light and slick body that makes this new smartphone ultra portable and easy to hold in one hand. A minimalistic design, clean lines and metal finishing of the phone make it look bright and premium. Also, a back case is included in the box. This stylish accessory perfectly complements the new MultiPhone 5508 DUO. The phone itself and the accessories are beautifully wrapped in a luxury gift box.
Key features to ensure great performance
With the MultiPhone 5508 DUO you can capture everything you see in full detail in stunning high resolution. An advanced 13.0MP rear camera with autofocus and dual-LED flash ensures exceptionally sharp and high-quality photos and video, while the 5.0MP front camera produces colourful selfies and video calls.
The new MultiPhone 5508 DUO runs the latest Android 4.4 KitKat. It has a more polished design, improved performance and lots of new features. KitKat is super-smooth, the UI is refined and elegant. There are improvements to the long-neglected calling and messaging side of the platform. It is more focused on productivity.
The Prestigio MultiPhone 5508 DUO uses Dual SIM which is both convenient and fun. It provides more capabilities on one phone. You can engage different mobile networks and keep two lines for separate purposes. Thus, you save money by using different price tariffs for calls and 3G. Also, while travelling abroad you can easily stay in touch with your relatives by using a local SIM.
Pre-Installed
The Prestigio MultiPhone 5508 DUO comes with exclusively preinstalled applications and services:
MultiCloud: 200GB ultra-secure free cloud storage for 1 year for free only for Prestigio users;
OfficeSuite Pro: the world's No. 1 mobile solution to create, view and edit popular document formats;
Prestigio eReader: an app to read e-books with a built in online library and a bookstore;
Navitel Navigator: a leading navigation solution app for automotive navigation industries;
McAfee Antivirus: an award-winning mobile security solution;
Prestigio MultiStore: a marketplace that offers easy access to a variety of applications which are specially designed and carefully selected for your use on your Prestigio device.
The Prestigio MultiPhone 5508 DUO will be available for sale at the RRP of 289 USD in August, 2014.