Prestigio MultiPhone 8400 DUO: the ultimate Windows Phone experience at the best price
07/16/2014
Prestigio, an international manufacturer of mobile devices, consumer electronics and accessories, is pleased to announce the start of sales of its brand new MultiPhone 8400 DUO powered by Microsoft's Windows Phone OS.
It combines the smart engineering solutions of Prestigio, the most advanced Windows Phone 8.1 features and a very affordable price. The Prestigio MultiPhone 8400 DUO is a great choice for keeping in touch, arranging your business and enjoying new technologies on the one device.
"Our Windows-based MultiPhone 8400 DUO is the first step forward in our efforts to give our smartphone users their customary OS experience at a fair price. I hope we have managed to succeed and that our new model will gain popularity among our customers", commented Yuri Antoshkin, General Manager, Prestigio EMEA.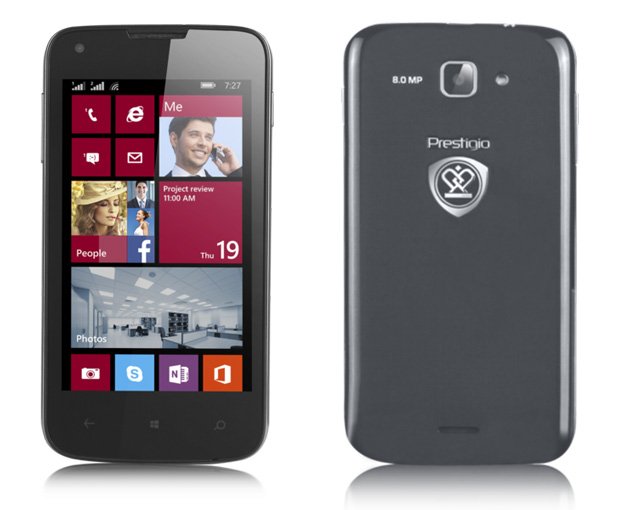 Prestigio users are among one of the first to enjoy the most advanced Windows Phone 8.1 services on a new MultiPhone 8400 DUO. They are the latest versions of:
Live Tiles that features and upgrades important issues right on the screen;
OneDrive to store user's info and keep it available for them from anyplace;
Office 365 providing great productivity and a full range of opportunities working with documents;
Action Center which shows new activities and notifications at a glance;
Senses a suite of features that manage data use, storage space and battery life.
The Prestigio MultiPhone 8400 DUO features:
a crystal clear 4.0" IPS display (480x800) for comfortable reading, watching movies and surfing;
a powerful Qualcomm MSM8212 1.2GHz Quad Core CPU that powers the optimal performance for multi-tasking such as internet, multimedia and applications use;
0.3 MP front camera and 8 MP advanced rear camera allowing users to take and enjoy viewing high quality images on the go;
Dual SIM capabilities that enable personal and work calls to come to two different numbers on one phone without additional hardware, making it easier for users to manage their busy lives;
fast internet connection and 3G network that delivers a lightning fast web experience and high speed downloading;
long-lasting battery to ensure true mobility.
Also, the Windows Phone 8.1 on Prestigio MultiPhone 8400 DUO makes it easier for IT professionals to manage devices and for professionals to connect to essential business apps and services with special features such as simplified device enrollment, a built-in mobile device management client, S/MIME for encrypted mail and VPN support.
The MultiPhone 8400 DUO is available for sale from August 20 at an outstanding price of 110 USD.