Prestigio MultiPhone 8500 DUO: an impeccable choice for unlimited creativity
07/15/2014
Prestigio, an international manufacturer of mobile devices, consumer electronics and accessories, presents the new MultiPhone 8500 DUO running on Windows Phone OS to provide its customers with a more personalised and meaningful experience and keep them more connected to key people, events and information in their lives.
An upgraded hardware selection for the Prestigio MultiPhone 8500 DUO ensures optimal performance and a powerful usability. Such innovations as a Quad core processor, a 2 & 8 MP cameras together with an IPS HD display, both allowing users to take and enjoy viewing high quality images on the go, provide a perfect background and support to the latest Windows Phone 8.1 OS.
Dual SIM capabilities enable personal and work calls to come to two different numbers on one phone without additional hardware, making it easier for users to manage their busy lives.
"With its strict design, 5-inch IPS display and a high-speed performance our new Windows-based MultiPhone 8500 DUO is a good choice for business management. Powered by Microsoft services this smartphone becomes a battle winner in any situation that requires the quickest operation of your mobile device", commented Yuri Antoshkin, General Manager, Prestigio EMEA.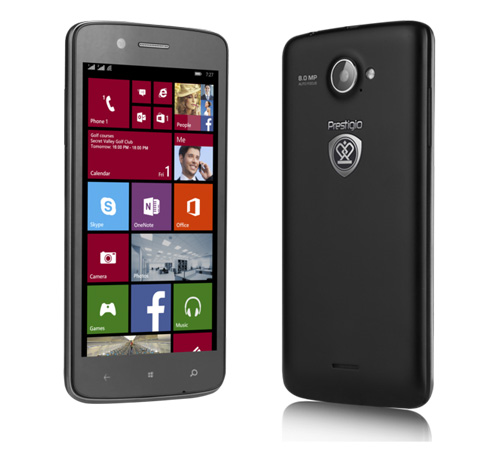 Prestigio users are lucky to become one of the first in the world to experience the most advanced Windows Phone 8.1 services on a new MultiPhone 8500 DUO. It includes the latest versions of:
Live Tiles that features and upgrades important issues right on the screen;
OneDriveto store user's info and keep it available for them from anyplace;
Office 365 providing great productivity and a full range of opportunities working with documents, so you can create, access, edit and share Word, Excel and PowerPoint documents and OneNote notebooks with anyone;
Action Center which shows new activities and notifications at a glance;
People Hub where your contacts are automatically linked together from your social networks and address books, so you can call, text, call with Skype and more from one convenient place;
Senses a suite of features that manage data use, storage space and battery life.
With features like an advanced cameras, powerful processor, a high-capacity battery and a stunning high-quality display, there's no limit on your creativity or productivity. The Prestigio MultiPhone 8500 DUO features:
a Gorilla glass 2 protected 5.0" IPS HD display (720x1280) with full lamination;
a Qualcomm MSM8212 1.2GHz Quad Core CPU with 1 GB RAM for top notch seamless multitasking;
a 2 MP front camera for a better quality of conference call and a8 MP rear camera with auto focus that can boast the highest image definition;
Dual SIM that helps you to enjoy and take advantage of different price tariffs for calls and 3G internet or use the first SIM for business and the second for a private life;
a fast internet connection and a 3G network that delivers lightning fast web experience and high speed downloading;
a long-lasting battery to ensure true mobility.
Also, the Windows Phone 8.1 on Prestigio MultiPhone 8500 DUO makes it easier for IT professionals to manage devices and for professionals to connect to essential business apps and services with special features such as simplified device enrollment, a built-in mobile device management client, S/MIME for encrypted mail and VPN support.
The MultiPhone 8500 DUO is available for sale from July 20 at a price of 210 USD.