Prestigio Presented a New MultiPad 9.7 Ultra Duo
03/20/2013
Prestigio MultiPad 9.7 Ultra Duo is a stylish and functional tablet PC from Prestigio, which has amazing characteristics, making it a comfortable and efficient to use. It's multi-touch IPS display measuring 9.7 inches with a resolution of 1024 x 768 and a 178-degree viewing angle makes watching videos particularly impressive. IPS technology ensures that the image is very bright with realistic and deep colors. In addition Prestigio warrants dead pixels by using the high-end panels.
With a powerful dual-core ARM Cortex A9 as well as 1GB of RAM, the device is incredibly fast. The quad video card creates the option to watch videos in Full HD quality with a resolution of 1080p, as well as enjoying dynamic games with 3D effect. A HDMI output makes it easy to connect your device to a TV or projector.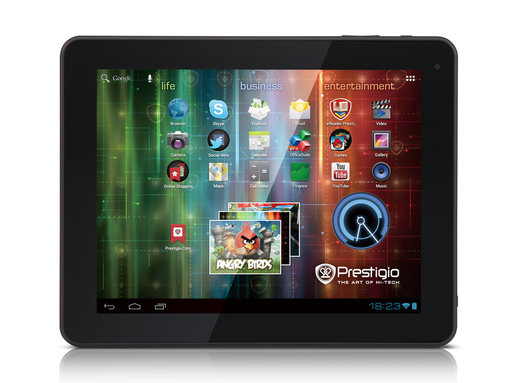 Prestigio MultiPad 9.7 Ultra Duo runs on the latest OS Android 4.1 Jelly Bean. Also, the tablet PC has a number of preinstalled programs that are fully operational immediately after purchase. For example, eReader Prestigio application that gives you access to more than 620,000 eBooks, among which 30,000 are free, in 22 languages. Additionally 700,000 applications are available on Google Play, which the user can easily download and install.
Thanks to 16GB of internal memory and an expandable memory card up to 32GB, as well as a bonus 5GB of virtual memory from the pre-installed application SugarSync, ensures that the MultiPad 9.7 Ultra Duo can easily store all of your data. The device is equipped with two cameras and a powerful front 2MPK camera facilitates video calls of high quality.