Prestigio Presents a New 7-inch IPS Tablet
09/23/2013
Prestigio presents its new 7-inch IPS tablet, MultiPad 2 Pro Duo 7.0, with a high resolution screen of 1280x800 pixels. On the inside, it features a Dual core processor ARM Cortex A9 with a frequency of 1.5GHz, a Dual core graphic card and 1GB of memory. Sharp, bright and fast, it comes in an aluminium body available in two colour options – black or White. A stylish leather case of the corresponding colour is included in the package.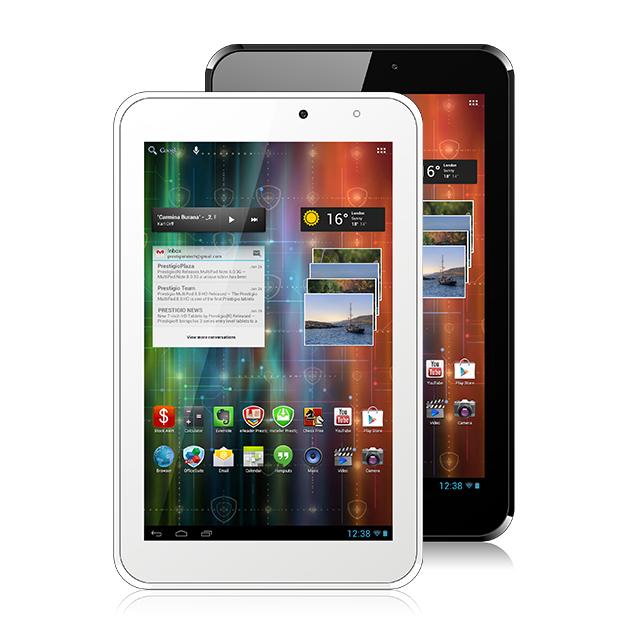 Powered by Android 4.1 Jelly bean, the MultiPad 2 Pro Duo 7.0, like all Prestigio tablets, is already preintalled with many usefull apps for a better out of the box experience including a paid version of Office Suite Pro, available free for users of the device and Prestigio eReader, with access to more than 700,000 eBooks in 24 languages, 30,000 of which are free. More than 700,000 apps are available to download.
The Prestigio MultiPad 2 Pro Duo 7.0 is equipped with two cameras: a front web camera for video calls and a 2.0MP rear camera for taking pictures that can be uploaded straightaway to social networks thanks to the high speed Wi-Fi that is built-in. To store all the media content, users are provided with a storage capacity of 8GB that can be easily expanded up to 32GB via a memory card. The microUSB port allows you to connect external hard drives, peripherals or 3G dongles.
Another benefit of the tablet is a powerful battery of 4000mAh that can be charged via the microUSB port ensuring long working hours and extended mobility.
The Prestigio MultiPad 2 Pro Duo 7.0 will be available to end users in September at the RRP of 119 EUR.