Prestigio Releases MultiPads With A Unique Design – MultiPad 2 Pro Duo 8.0 3G
07/22/2013
A combination of unique design and the latest technology has been incorporated by Prestigio into its new MultiPad 2 Pro Duo 8.0 3G. The front has an 8-inch IPS glass display delivering an amazing view, while its back panel is decorated with a triangular black plastic insert and the rest of it is made of brushed aluminum. Inside it has a powerful Dual Core processor MT8377 ARM Cortex A9 at 1.20GHz, Dual Core graphic card and 1GB of memory, which makes it really fast and responsive and is able to handle the most demanding activities. The battery capacity is 5300mAh, which can be recharged via the microUSB port, and provides long working hours on one battery charge.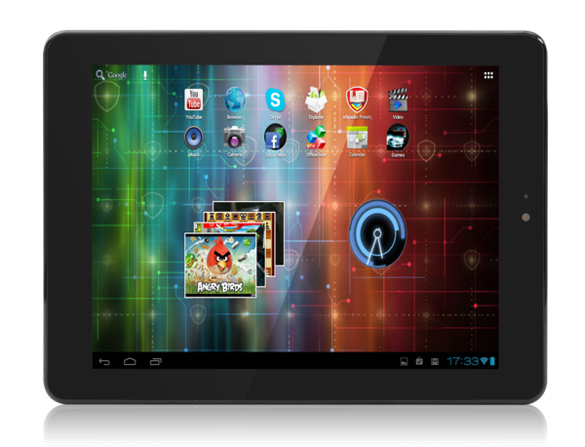 Based on the Android platform, the MultiPad 2 Pro Duo 8.0 3G offers a number of preinstalled applications for a better out of the box experience, including its own Prestigio eReader that offers more than 620,000 eBooks in 24 languages, with 30,000 of these being free. More than 700,000 apps are available to choose from and download on Google Play.
The tablet features two cameras – a front camera of 2MP for video calls and a rear camera of 5MP with autofocus for taking pictures.
The MultiPad 2 Pro Duo 8.0 3G has an internal storage capacity of 16GB and another 5GB of cloud storage is available with the preinstalled SugarSync application. Additionally, the card reader slot facilitates the insertion of up to 32GB memory cards.
The Prestigio MultiPad 2 Pro Duo 8.0 3G offers a wide range of connectivity options: mobile internet anywhere anytime with 3G, Bluetooth for fast data exchange, phone calls and messaging support. It also features a built-in GPS receiver and FM-radio, making it a perfect companion on the road as well.
The tablet comes together with a leather magnetic pouch that wakes and sleeps the device automatically when sliding it in and out of the pouch.
Prestigio MultiPad 2 Pro Duo 8.0 3G will be available to end users in July.