Prestigio® Releases MultiPad Note 8.0 3G
04/24/2013
A unique tablet has been designed by Prestigio®, the MultiPad Note 8.0 3G, featuring an Electromagnetic Digitizer that provides users with handwriting tools converting it into an extraordinary digital notepad. Adding an extra dimension to tablet PC usage, this functionality will be highly appreciated by people from different professional fields as well as by the ordinary user.
A journalist can take notes of an interview and send them straight to their newspaper editor, a tourist can create a travel journal, a housewife can write down her favourite recipes, a student can take lecture notes, a businessman can send handwritten emails and sign documents, a doctor can write a prescription to his patient without having to remove their surgical gloves, an artist or a designer can draw and edit photos professionally.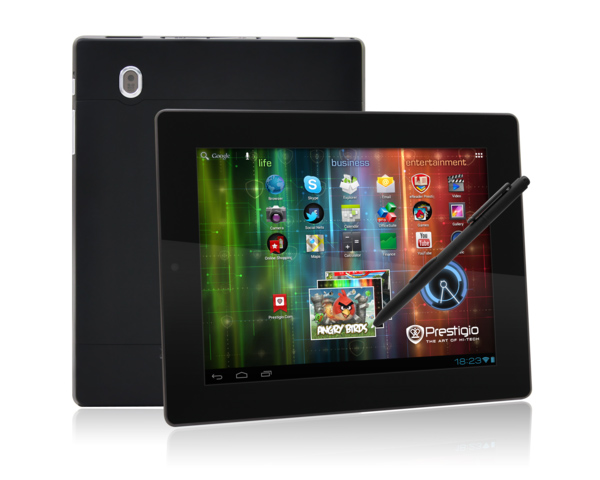 From the technical side, the Prestigio MultiPad 8.0 3G is a powerful machine equipped with a Dual Core processor ARM Cortex-A9 with a frequency of 1.6GHz, a Quad Core graphic card and 1GB of memory. These features make watching movies and playing the most dynamic games run smoothly on a crystal clear 8-inch IPS screen with a resolution of 1024x768 pixels. The 3G functionality provides mobile internet anywhere anytime. The 16GB of storage capacity can be expanded even further by up to 32GB with an additional micro SDHC/micro SD memory and another 5GB of cloud space via the preinstalled SugarSync application. Apart from the webcam for video calls, the Prestigio MultiPad Note 8.0 3G also has a 5.0MP camera to take photos and record videos which can then be shown on a TV later by connecting the device via mini HDMI output. In addition, it has a powerful battery of 6000mAh providing users with long working hours on one charge for extra mobility.
Powered with Android 4.1 and already preinstalled with many essential apps, the Prestigio MultiPad Note 8.0 3G is ready to use right out of the box. Among the most popular apps that are included are Office Suite Pro, which allows the viewing and editing of Office documents and Prestigio eReader, with a choice of more than 270,000 eBooks in 23 languages. In addition, the MultiPad Note 8.0 3G is also preinstalled with handwriting apps such as Smart Note and Email. With the Smart Note app you can create handwriting notes, add drawings and images from your camera, share them and synchronize with EverNote so that you have access to them from anywhere. With the Email app users can add handwriting notes and signatures, drawings and pictures to their email. To satisfy every desire, the preinstalled Google Play marketplace provides access to more than 700,000 apps of various interests.
The Prestigio MultiPad Note 8.0 3G comes with a Smart Case that either wakes or rests the tablet depending on whether it is opened or closed. A stylish stylus is also included and can be kept in the slot of the case for extra convenience.