Prestigio Releases a New Tablet in the MultiPad 4 Quantum collection
07/14/2014
Prestigio, a dynamic international vendor of state-of-the-art IT and CE products for style-conscious consumers that is among the top 5 Tablet PC brands and #1 in the mobile navigation market in the countries of CEE, has released the new MultiPad 4 Quantum 8.0 3G.
A special edition of elegant and masculine tablet PCs with an aluminum body were introduced by Prestigio with the release of the MultiPad 4 Quantum collection. Now Prestigio has released the 8-inch version MultiPad 4 Quantum 8.0 3G.
This format is comfortable to watch movies and will still fits in your bag. Thanks to IPS technology and a high resolution display of 1200x800 pixels, the view is bright and crisp. An excellent performance is delivered by a powerful Quad Core ARM Cortex A 7 1.3GHz processor. A fast internet connection up to 21Mbps/7Mbps upload/download speeds is achieved with 3G support (HSPA+). Users can also make phone calls and send text messages. Additionally it has a built-in GPS receiver.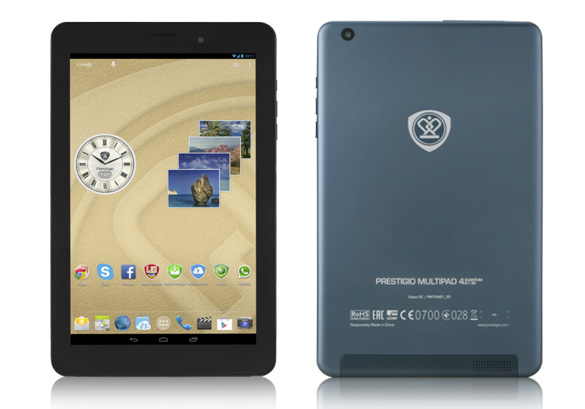 To store all your data, the MultiPad 4 Quantum 8.0 3G offers 16GB of storage built-in with the possibility to expand it via an optional memory card up to 32GB plus 200GB of free cloud storage with the Prestigio MultiCloud app. It also has a 0.3MP front camera for video calls and a 2MP rear camera for taking pictures and a Bluetooth to connect and exchan-ge data between devices wirelessly.
Running an intelligent Android OS, it already comes preinstalled with many useful apps: Google apps, Prestigio eReader, OfficeSuit Pro, Deezer, McAfee Antivirus, Bloomberg, Wikipedia, Navitel navigator, Facebook, Twitter, WhatsApp, Vkontakte, Hills of Glory 3D, NARR8, Megogo.net and many others (availability of apps varies by model/region). To download more apps, the Prestigio MultiStore offers free and prepaid apps especially for Prestigio users with up to 70 EUR savings and more than 1,000,000 apps that are available from Google Play.
The Prestigio MultiPad 4 Quantum 8.0 3G comes in an elegant dark blue color and with an exclusive leather pouch in premium packaging that is suitable for a luxury gift.
The Prestigio MultiPad 4 Quantum 8.0 3G is available now at the RRP of 189 EUR.