Prestigio® RoadRunner 130
11/03/2015
"Finally everyone who cares about safety on the road can receive it without spending a fortune! Meet the RoadRunner 130, an extremely affordable and yet functional car video recorder from Prestigio®. We created it considering regular budget conscious drivers. I am sure we succeeded. Its compactness is absolutely amazing – the RoadRunner 130 is almost invisible in the car! HD videos, clear image, optimal 1.5 inch display size, user- friendly control panel and motion detection function… It's not only about safety; it's also about comfort and functionality," Anton Volchenkov, Chief Commercial Officer, Prestigio EMEA, on Prestigio® RoadRunner 130 release.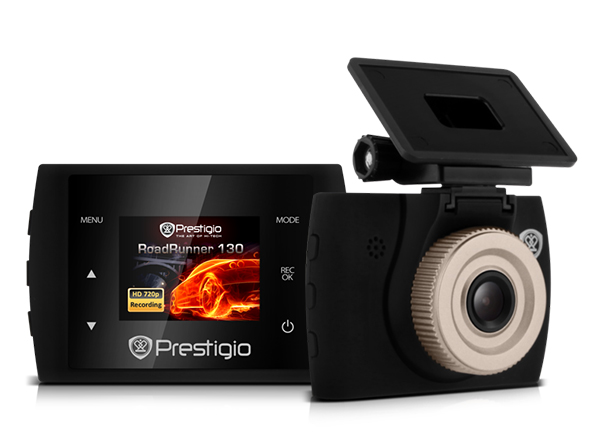 Your trip movie
To feel safe a driver must be sure that no important detail slips his attention. The camera with 100-degree viewing angle captures video in up to HD resolution. It ensures good quality of recording – you get a clear and quality image. In addition a built-in microphone records sound and the recorded video will meet all the requirements of any driver.
Navigation like entertainment
The Prestigio® RoadRunner 130 features a bright 1.5 inch TFT-display with clear viewing angles. Due to a user-friendly and intuitive control panel, customizing image clarity, contrast and colour settings are simple and joyful tasks.
Record & Save
To save all your recorded videos on the Prestigio® RoadRunner 130, you can use microSD cards up to 32 GB. Flexible video setting allows you to choose different video resolutions to optimize quantity of files that can be stored on a device at the same time. You can always quickly and easily delete archive or useless files in few clicks – or transfer files you need from microSD to your PC.
Latest technology
Although the Prestigio® RoadRunner 130 is very affordable it features up-to-date technologies to save your time and to make your user experience more pleasant. Use cycle recording if you do not have important files on a recorder and enjoy a motion detection function. If selected, this mode ensures video shooting only when detecting a new movement in the frame. It's easy to economize device internal storage!
Pocket device
If you care about your car it's very important to look forward to compact and lightweight accessories. Moreover, the compactness of a video recorder is particularly important – this device was invented to be an invisible guard of driver's safety on the road. The Prestigio® RoadRunner 130 is very small (only 71x47x31 mm) and weights 43.7 g, so it is almost invisible when installed in the car.
Best price
Regardless to the variety of functions, user-friendly interface and minimalistic design the RoadRunner 130 costs only … It is evidently the perfect example when quality meets price. Save your money while using a quality device. The Prestigio® RoadRunner 130 is a perfect choice for practical people who pay close attention to detail.
RoadRunner 130 is available for sale at the RRP of 35 EUR.