Prestigio Grace X3
02/18/2015
Prestigio, an international manufacturer of mobile devices, consumer electronics and accessories known in 85 countries, is pleased to present the Grace X3, running on Android KitKat to provide users with a full range of mobile features and utilities powered with enhanced imaging opportunities.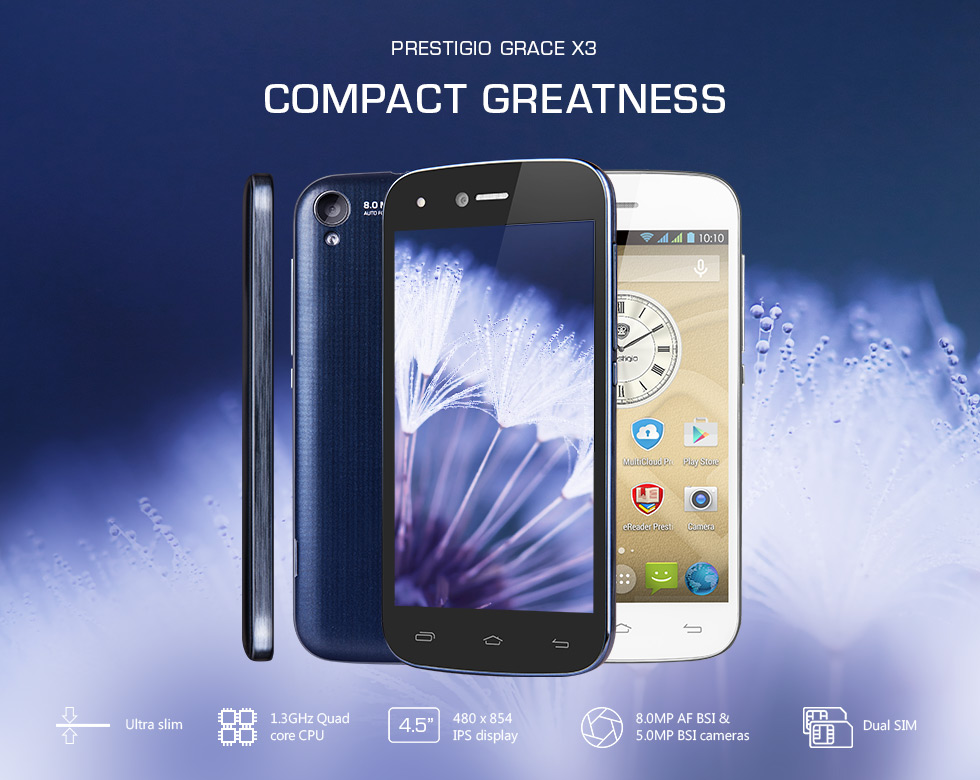 A high specification enables you to benefit from a vast range of features, such as: a sleek design, high quality camera, clear and bright display and dual SIM capability. This phone has the capacity for high external and cloud storage.
The Prestigio Grace X3 is packaged within a super slim frame, even with all its features it is only 8mm thick and weighs only 118gms. This phone comes with a 4.5" IPS display delivering bright, colourful images at high contrast. You will never have to worry about missing calls and sound quality of hands-free calls as the speaker is located at the bottom of the phone. Meaning wherever the phone is placed, on a desk or in a bag, sound will not be lost.
For keen photographers this phone will deliver high quality images. The 8-megapixel rear camera enables you to capture sharp and clear images and videos in real time. For those who love a 'selfie', the 5-megapixel front camera makes taking these easy, quick and fun. Both front and rear cameras have BSI (Back side illumination) sensor and a high brightness camera flash, ensuring blur free and sharp pictures even in low light and at night.
Further Grace X3 camera features include:
• Panorama shot
• Real-time facial beauty
• Face detection
• Continuous quick 40 shots for action images
• Self-timer
• Zero shutter display
• Geo tagging
• Voice capture
• Smile shot
Dual SIM capabilities enable personal and work calls to come to two different numbers on one phone without additional hardware, making it easier for your busy life. Engaging multiple mobile networks and keeping two lines for separate purposes, saves money by using different price tariffs for calls and 3G. Also, when travelling abroad you can easily stay in touch with your relatives and friends by using a local SIM.
The Prestigio Grace X3 has Android 4.4 KitKat operating system and is capable of supporting the V5.0 Lollipop update. This high performing phone has a built in 1.3 GHz Quad Core CPU, allowing you to complete a range of tasks simultaneously. A built in 1GB RAM and 8G eMMC allows for smooth running and multi-tasking on the device. In addition a long lasting battery, ensures that you can upload 'selfies', browse the internet, play games and use applications without the worry of constantly charging.
The desire to retain images, videos and documents can be achieved on the Prestigio Grace X3, as the phone supports micro SD cards up to 32GB, enabling the mobility of media content. Additionally you can take advantage of 200GB FREE cloud storage with Prestigio Multicloud software. Connecting to the internet and downloading your favourite music and applications, is so easy as this phone is compatible with Bluetooth 4.0, 3G and WiFi.
*The Prestigio Grace X3 will come with a USB cable, power adaptor, user guide, and warranty card.*