Prestigio Announced MultiPad 7.0 Ultra+ as a Kids Tablet
11/03/2014
Prestigio, an international manufacturer of mobile devices, consumer electronics and accessories known in 85 countries, offers kids solutions for MultiPad 7.0 Ultra+. The Prestigio MultiPad 7.0 Ultra+, an entry level 7-inch tablet offering a reliable performance at an affordable price, is now known as a kid's tablet.
Free Kids Apps
From the 1st of October until New Year, users of the Prestigio MultiPad 7.0 Ultra+ can download free kids app via MultiStore. These include a classic card game for young children, Animals Memory, 50 gorgeous puzzles of the world's most stunning creatures, Animals Puzzle, 12 classic songs for children Music Jukebox, learning alphabet with My First ABC (RU only), 18 frog some mini-games - Tap the Frog HD, learning games for kids - Smarty preschool adventures, a complete artistic solution for kids Color & Draw and an interactive service for learning and practicing English with LinguaLeo (RU only).
Kids Launcher with Parent Control
The Kids Launcher with Parent Control is the opportunity to give children a private and secure virtual world on the Prestigio MultiPad 7.0 Ultra+, with games, cartoons, audio and video materials inside of it. For child protection, it offers a reliable parental control over the content with password protection for exiting Kids mode, no ads in the Kids mode, run only proven applications authorized by parents and games with time limits, individual desktops for books, apps and cartoons and simple design specially developed for kids. It also gives possibilities to protect the device itself including locking the home button, the possibility of changing any settings, all purchases and installation of new applications, making calls and sending SMS messages functionality. The Kids Launcher with Parent Control will be available via MultiStore in the beginning of November.
Rubber Case
What's more with the MultiPad 7.0 Ultra+, users can additionally acquire a Prestigio rubber case PTCR01 especially designed for kids. Made from a high-grade rubber, the case is very comfortable for a child to use because of its soft and smooth texture. A durable, thin and lightweight case helps to protect the tablet against scratches, dirt and other daily damages. The Prestigio rubber case PTCR01 comes in a pleasant green color which is perfect for both girls and boys.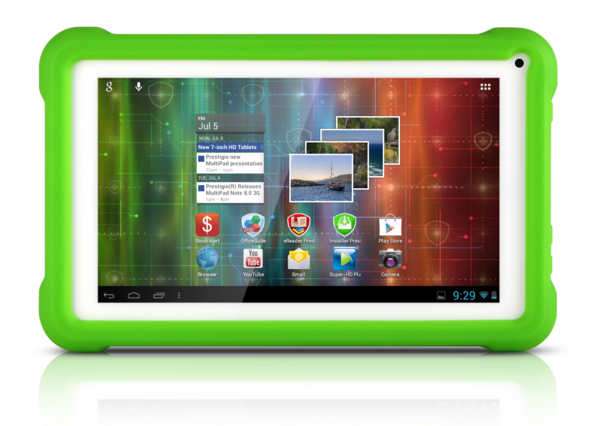 About the Tablet
On the technical part, the Prestigio MultiPad 7.0 Ultra+ has a 7-inch capacitive multi-touch TFT LCD display, A13 ARM Cortex A8 processor with a speed of 1GHz and 512MB of memory with 3D games and Full HD movies playback support, 4GB of built-in storage with possibility to expand it via memory card of up to 32GB and cloud storage of 200GB, a battery of 3200mAh providing up to 7 hours of mixed usage, high-speed WiFi connectivity, front webcam for video calls, Android 4.2 Jelly Bean. Many apps are preinstalled for out of the box experience, free apps and apps with special offers with total savings up to 140EUR from Prestigio MultiStore and more than 1,000,000 apps to choose from on Google Play. Overall, the Prestigio MultiPad 7.0 Ultra+ provides a reliable and smooth performance with many benefits at an affordable price. What's more, the table is available in Onyx Black, Wine Red and Alpine White colours.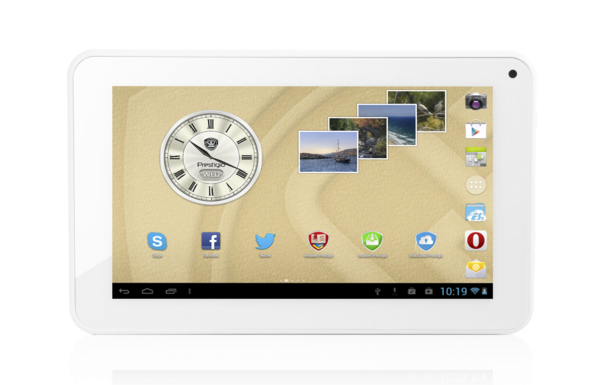 Prestigio MultiPad 7.0 Ultra+ is available to end users at a RRP of 49 EUR.