Prestigio MultiPad Color is now with Gameloft Games
09/26/2014
Prestigio, an international manufacturer of mobile devices, consumer electronics and accessories known in 85 countries added Gameloft Games to Prestigio MultiStore for the MultiPad Color.
The premium content from Gameloft is now available on the Prestigio MultiPad Color with an amazing special offer. From the 1st of September, Prestigio users can download the popular Modern Combat 4: Zero Hour from Prestigio MultiStore for free, and get up to 50% discount on other games from Gameloft.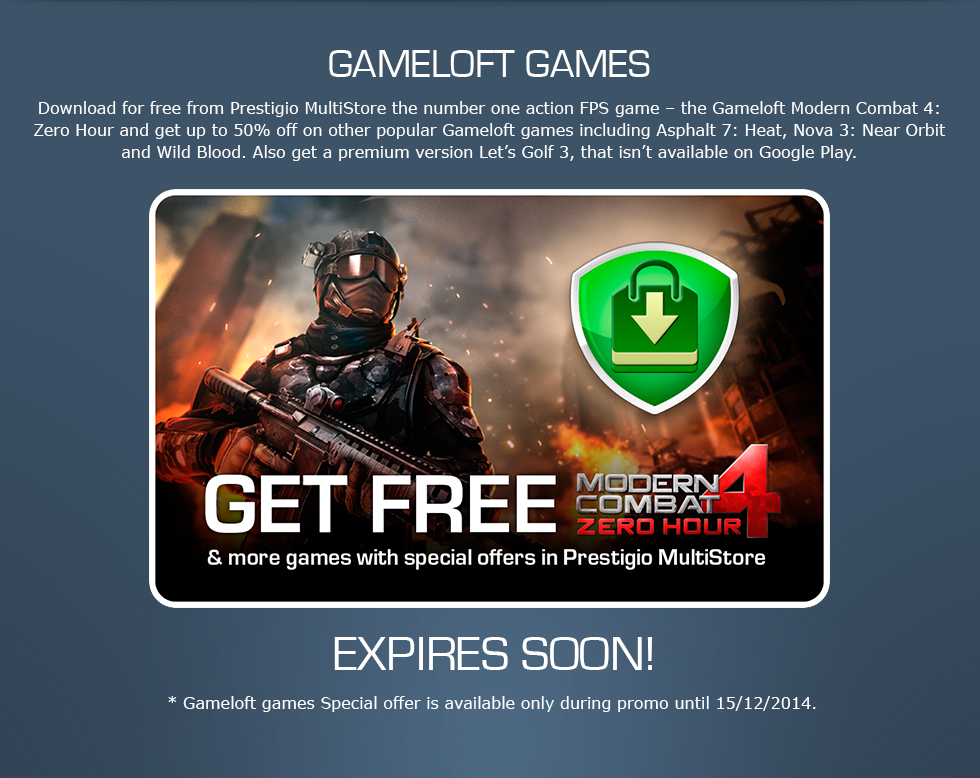 Modern Combat 4: Zero Hour is the number one action FPS game. In the wake of nuclear warfare, the only chance to avoid global devastation is in the hands of the few elite soldiers, who must track down and rescue the world's leaders from a frighteningly familiar terrorist group. The player is equipped with more than 20,000 weapon arrangements, to take action on both sides all over the world, with console-quality graphics and sound for the most lifelike and full of dramatic intensity experience. The price of Modern Combat 4: Zero Hour on Google Play is 5.99EUR, but owners of the Prestigio MultiPad Color can enjoy this game absolutely free!
Among other popular Gameloft games available on the Prestigio MultiPad Color with up to 50% off are the newest and fastest racing game with Asphalt 7: Heat. This game contains more than 60 different cars from the world's most prestigious manufacturers. Also included in the package is the greatest space shooter Nova 3: Near Orbit and the unforgettable journey of Sir Lancelot in Wild Blood full of full 3D graphics powered by Unreal Technology. In addition, only Prestigio users can get the premium version of the world's most exciting golf odyssey, Let's Golf 3, which isn't available on Google Play. These games are available to download from Prestigio MultiStore for lucky owners of the Prestigio MultiPad Color.
The MultiPad Color is a new must have Android tablet from Prestigio, designed for dynamic and young people and available in 7 and 8-inch form factors in 6 trendy colors: black, white, red, blue, mint and violet. All feature bright and crisp IPS display, a Quad core processor and various connectivity options such as 3G, GPS, FM, Phone, Bluetooth and NFC.
The Gameloft games offer will be also available on Prestigio MultiPad Rider 7.0 and MultiPad 4 Ultra Quad 8.0 3G.
Prestigio MultiPad Color is available now to customers at a RRP starting from 139 EUR.
Follow the link to find more details.