Prestigio MultiPhone 5454 DUO. The miracle of power and speed.
11/13/2014
Prestigio, an international manufacturer of mobile devices, consumer electronics and accessories known in 85 countries, announces the release of a new Dual SIM smartphone with Qualcomm® Snapdragon™ 410 processor and 4G LTE connection– Prestigio MultiPhone 5454 DUO. Qualcomm Snapdragon is a product of Qualcomm Technologies, Inc., a wholly-owned subsidiary of Qualcomm Incorporated.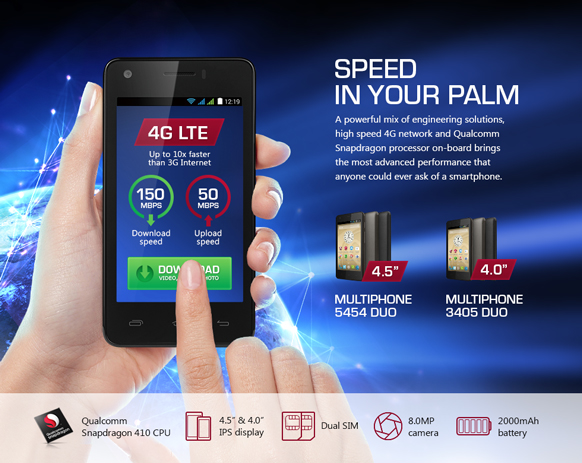 It is a remarkable Dual SIM smartphone with 4.5'' IPS qHD display, and a number of advanced engineering solutions hidden behind its elegant exterior. Prestigio MultiPhone 5454 DUO is powered by Snapdragon 410 processor, which makes the smartphone run faster on numerous tasks simultaneously. It brings an utmost productivity along with longer battery life.
Prestigio MultiPhone 5454 DUO, holds 4G LTE connection to provide up to 10 times faster Internet connection than 3G. It ensures perfect video streams without interruptions, comfortable engagement in multi-player games, faster networking and quick hi-def video downloads.
"A powerful mix of design, engineering and network solutions is resulted in our new MultiPhone 5454 DUO. Together with the most appreciated mobile features, the high speed 4G network and Snapdragon processor onboard, it brings the most advanced performance that anyone could ever ask of a smartphone," said Marek Horyl, Chief Operating Officer, Prestigio EMEA, about MultiPhone 5454 DUO.
So powerful – and powered by Snapdragon
Snapdragon 410 enables the Multiphone 5454 DUO to deliver advanced performance without compromise. With quad-core CPUs at speeds of up to 1.2 GHz per core in combination with 1 GB RAM, now you can go full blast with Multiphone 5454 DUO capabilities.
Snapdragon 410 brings incredible features to life in the new Prestigio MultiPhone5454 DUO, including rapid download speeds, high-definition streaming capabilities, visually stunning graphics and a remarkably long battery life.
Longer performance, fewer charges
This Snapdragon processor is made so that your 2000mAh battery stays stronger for longer. It lets you enjoy jaw-dropping graphics, stream hi-def movies and dominate your favourite games with more battery life.
Instant data delivery with 4G
It's the speed that you almost feel in your palm. With 4G LTE connection in MultiPhone 5454 DUO, downloads complete in seconds, whilst music and video stream in unbeatable quality and run perfectly seamlessly.
Stunning display for brilliant delivery of your content
The display of Prestigio MultiPhone 5454 DUO is a wide 4.5'' IPS with a qHD resolution of 540x960 pixels. Incredible Gorilla Glass 3 protection of the screen ensures ultimate scratch and impact resistance. The remarkable picture quality of the display is sure to bring great emotions to whatever activity you take up in your smartphone.
Remarkable imaging
Capturing memorable moments in full detail in a stunning high resolution, is a special feature of the MultiPhone 5454 DUO. Advanced 8.0MP rear camera with autofocus ensures exceptionally sharp and high-quality photo and video, whilst the 2.0 MP front camera allows taking colourful selfies and conducting video calls.
Dual SIM benefits
Prestigio MultiPhone 5454 DUO is using Dual SIM which is convenient and fun. It provides more capabilities on one phone. You can engage different mobile networks and keep two lines for separate purposes. Thus, you save money by using different price tariffs for calls and 4G internet. Also, while travelling abroad you can easily stay in touch with your relatives still using a local SIM.
Android KitKat to get the most of your smartphone
New MultiPhone 5454 DUO runs incredible Android 4.4 KitKat. It has a more elaborate design, advanced performance and lots of up-to-date features. KitKat is super-smooth, the UI is refined and elegant. There are improvements to the long-neglected calling and messaging side of the platform and it is more focused on productivity.
Pre-Installed applications
Prestigio MultiPhone 5454 DUO comes with exclusively preinstalled applications and services:

- MultiCloud: 200GB ultra-secure free cloud storage for 1 year free only for Prestigio users;
- OfficeSuite Pro: the world's No. 1 mobile solution to create, view, and edit popular document formats;
- eReader Prestigio:an app to read e-books with built in online library and a bookstore;
- Navitel Navigator: a leading navigation solution app for automotive navigation industries;
- McAfee Antivirus: an award-winning mobile security solution;
- MultiStore Prestigio: a marketplace that offers easy access to a variety of applications which are specially designed and carefully selected for your use on your Prestigio device.
The Prestigio MultiPhone 5454 DUO will be available for sale in November, 2014 at the RRP of 200 USD.
Qualcomm and Snapdragon are trademarks of Qualcomm Incorporated, registered in the United States and other countries. Other product and brand names may be trademarks or registered trademarks of their respective owners.