Designed to captivate
08/18/2014
Prestigio, an international manufacturer of mobile devices, consumer electronics and accessories known in 85 countries, announces the release of its new smartphones – Prestigio MultiPhones 5505 & 5455 DUO.
"We call them Star Performers because they are really outstanding. With the latest Android on board and a smart hardware combination these smartphones always run a breathtaking show. They are designed to impress and most likely will become popular among our users," said Yuri Antoshkin, General Manager, Prestigio EMEA, on MultiPhones release.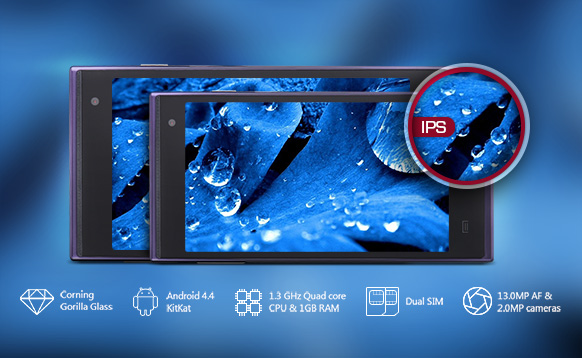 Iconic design and the best picture quality
Elegant shapes and absolutely gorgeous materials make them more than just smartphones but stylish fashion accessories. Brilliant IPS screen with full lamination features the clearest picture quality. The display is highly resistant to scratches and cracks due to a reliable Gorilla glass 3 generation protection. Two display sizes are available: 4.5" or 5.0" for comfortable reading, watching movies and surfing.
Taking advantages of Dual SIM
Using Dual SIM gives more opportunities for free and easy communication. You can engage different mobile networks on one phone and keep two lines for separate purposes, like private and business. It is great for saving money by using different price tariffs for calls and 3G. Also, while travelling abroad you can stay in touch with your relatives still using a local SIM.
Remarkable imaging
Capturing memorable moments in full detail in a stunning high resolution is a special feature of MultiPhones 5505 & 5455. Advanced 13.0MP rear camera with autofocus and LED flash ensures exceptionally sharp and high-quality photo and video, while 2.0MP front camera allows taking colourful selfies and conducting video calls.
Incredible Android Kit-Kat
New MultiPhones run the latest Android 4.4 KitKat. It has a more elaborate design, advanced performance and lots of up-to-date features. KitKat is super-smooth, the UI is refined and elegant. There are improvements to the long-neglected calling and messaging side of the platform. It is more focused on productivity.
Pre-Installed
Prestigio MultiPhones 5505 & 5455 DUO comes with exclusively preinstalled applications and services:
- MultiCloud: 200GB ultra-secure free cloud storage for 1 year for free only for Prestigio users;
- OfficeSuite Pro: the world's No. 1 mobile solution to create, view, and edit popular document formats;
- eReader Prestigio: an app to read e-books with built in online library and a bookstore;
- Navitel Navigator: a leading navigation solution app for automotive navigation industries;
- McAfee Antivirus: an award-winning mobile security solution;
- MultiStore Prestigio: a marketplace that offers easy access to a variety of applications which are specially designed and carefully selected for your use on your Prestigio device.
The Prestigio MultiPhones 5505 & 5455 DUO will be available for sale at the RRP of 230 USD and 200 USD respectively in August, 2014.