Prestigio® MultiPad Visconte 3
10/20/2014
Prestigio, an international manufacturer of mobile devices, consumer electronics and accessories known in 85 countries, today announced its latest Windows Tablet – Prestigio MultiPad Visconte 3.
The most powerful tablet in Prestigio Visconte family, Visconte 3 comes with an enhanced powerful Intel® Quad Core processor, advanced rear camera and an ultra-strong battery, which allows you to enjoy a longer performance of your tablet or PC. The combination of strong, heat-resistant and flexible materials adds particular efficiency to an extraordinary design of Prestigio MultiPad Visconte 3.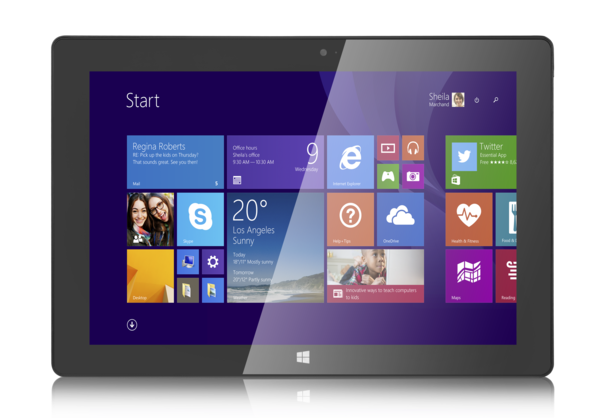 "Visconte tablets have gained enormous popularity among our users, so we try to upgrade them regularly to give our customers the best expected results. Additional accessories such as a smart-cover stand with USB keyboard make Visconte 3 a full-fledged laptop PC. It is a reliable and productive Windows tablet in a gorgeous design," Serhei Kostevitch, CEO and Chairman of Prestigio, on the release Prestigio MultiPad Visconte 3.
Powerful improvements
Prestigio Visconte 3 is an outstanding device which combines remarkable performance and beautiful design. It is optimized for Windows 8.1, equipped with latest Intel® Quad-Core processor up to 1.83 GHz, and functions longer on one charge, due to a more powerful battery (7000 mAh).
Designed for style and comfort
The case of a new Visconte 3 features an interesting combination of aluminum and thermoplastics which ensures strength, heat resistance and flexibility. This tablet is the slimmest in the Visconte line of products measuring just 9.7 mm. This elegant updated feature makes it more comfortable to hold.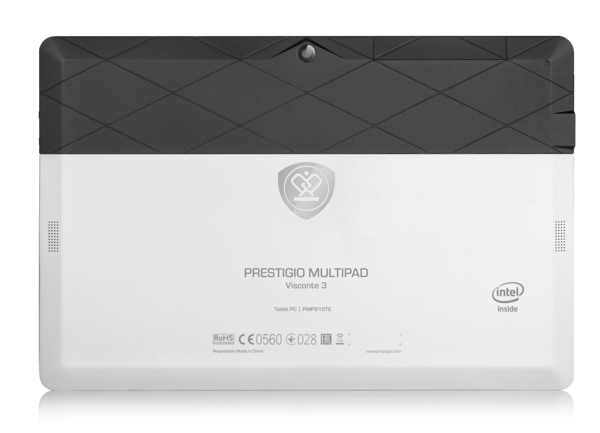 Improved visuals and superior sound
Hi-resolution 10.1" IPS screen (1280*800 pixels (16:10) and speakers offer an immersive experience of the picture displayed. An upgraded 2.0 MP fixed focus front webcam and 5.0 MP autofocus camera allows you/ customers to take quality pictures and video as well as conduct conferences and video calls.
Versatile and connective
A wide range of applications and connected devices such as printers, scanners, cameras and a great number of other accessories are at your disposal. The Visconte 3 Includes both USB ports 2.0 (1USB and 1 Micro USB) and Micro SD (micro SDHC/SDXC сompatible) HDMI. The new tablet has an unbeatable connectivity also due to Wi-Fi, 3G and Bluetooth 4.0 Smart.
"2-in-1" device: use either Tablet or PC
With this incredible accessory Prestigio Visconte 3 turns into both an ultra-mobile tablet and a productive laptop all in one. A smart-cover stand with USB keyboard, considerably enhances the tablet's efficiency and truly makes Visconte 3 - a "2-in-1" device. The keyboard is efficient for its comfortable and quiet typing, whilst the cover boasts a compact and flat design for ease when carrying. You can also auto wake and place the tablet on standby, by opening or closing the cover.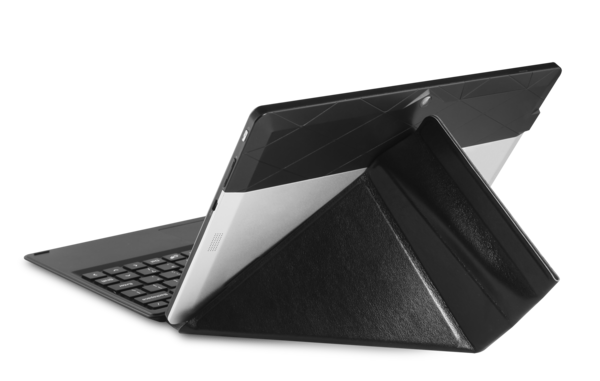 Windows 8.1, Office and Windows Store
Prestigio Visconte 3 as a Windows based tablet has a number of advantages. It can synchronize all your music, photos and files to a Windows Phone, Xbox and PC automatically. The majority of existing enterprise IT ecosystems are Windows-based. Therefore, it's easy to integrate and manage the new Windows tablet Visconte 3 in terms of security, access control, support and maintenance.
Windows Store offers more than 100 000 free educational and business applications. With preinstalled Microsoft Office 365 Personal you get a one year subscription with 1TB One Drive cloud storage already included within the price. The subscription includes other services, like 60 Skype minutes per month to call mobiles in 8 countries and landlines in 60+ countries. Office 365 contains Power Point, Word, Excel, OneNote and Outlook allows you all-round opportunities to work freely with files in various formats, and enables secure online accounts and email addresses for students.
What`s more, preinstalled Bing will help you find information online and access great prizes, and the Bing Rewards program will award points to users who perform searches and complete daily tasks.
Prestigio MultiPad Visconte 3 is available to users at PrestigioPlaza.com.