Prestigio MultiPhone 5507 DUO. Outstanding mobile experience
11/17/2014
Prestigio, an international manufacturer of mobile devices, consumer electronics and accessories known in 85 countries presents the new MultiPhone 5507 DUO running on the latest Android KitKat to provide its customers with a full range of mobile features and utilities powered with enhanced imaging opportunities.
Creative engineering solutions for Prestigio MultiPhone 5507 DUO, result in great performance and marvelous usability. A wide IPS HD display in combination with Quad core processor and enhanced cameras make a perfect background for an ultimate mobile experience. You can engage in networking or reading, watching favourite video or playing a game; smooth operation is totally guaranteed.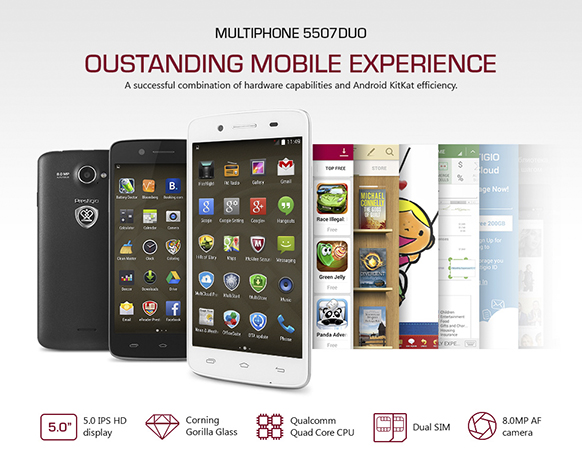 "Prestigio MultiPhone 5507 DUO is a vivid example of a powerful smartphone. It features a successful combination of hardware capabilities and Android Kit Kat efficiency. Topped off with Dual SIM benefits and pre-installed Prestigio applications it makes a real mobile headliner", commented Marek Horyl, Chief Operating Officer, Prestigio EMEA.
With features like advanced cameras, powerful processor, a high-capacity battery and a stunning high-quality display, there's no limit on your creativity or productivity. The Prestigio MultiPhone 5507 DUO features:
- a Gorilla glass 2 protected5.0" IPS HD display (720x1280) with full lamination;
- a Qualcomm MSM8212 processor with 1.2GHz Quad Core CPU with 1 GB RAM for top notch seamless multitasking;
- a 2 MP front camera for a better quality of conference call and a 8 MP rear camera with auto focus that can boast the highest image definition;
-Dual SIM that helps you to enjoy and take advantage of different price tariffs for calls and 3G internet or use the first SIM for business and the second for a private life;
- a fast internet connection and a 3G network that delivers lightning fast web experience and high speed downloading;
- a long-lasting battery to ensure true mobility.
Dual SIM capabilities enable personal and work calls to come to two different numbers on one phone without additional hardware, making it easier for users to manage their busy lives. Engaging different mobile networks and keeping two lines for separate purposes, saves money by using different price tariffs for calls and 3G. Also, while travelling abroad you can easily stay in touch with your relatives by still using a local SIM.
New MultiPhone 5507 DUO runs the latest Android 4.4 KitKat. It has a more elaborate design, advanced performance and lots of up-to-date features. KitKat is super-smooth, the UI is refined and elegant. There are improvements to the long-neglected calling and messaging side of the platform and it is more focused on productivity.
Prestigio MultiPhone 5507 DUO comes with preinstalled applications and services:

- MultiCloud: 200GB ultra-secure free cloud storage for 1 year for free only for Prestigio users;
- OfficeSuite Pro: the world's No. 1 mobile solution to create, view, and edit popular document formats;
- eReader Prestigio: an app to read e-books with built in online library and a bookstore;
- Navitel Navigator: a leading navigation solution app for automotive navigation industries;
- McAfee Antivirus: an award-winning mobile security solution;
- MultiStore Prestigio: a marketplace that offers easy access to a variety of applications which are specially designed and carefully selected for your use on your Prestigio device.
The Prestigio MultiPhone 5507 DUO will be available for sale in November, 2014 at the RRP of 155 EUR.